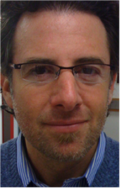 cPrime is proud to have
project management consultants
that exemplify and uphold project management excellence. Each month, one of cPrime's many worthy consultants  are chosen because they go above and beyond the call of duty; this month,
cPrime
recognizes and applauds Gary Goldstone, Program Manager at macys.com for his achievements, diligence, and hard work.
Gary has been an outstanding Program Manager that has led major initiatives with two of cPrime's largest clients for more than 2 years. He is widely recognized by his peers and executive leadership as a "rockstar"! He is well respected by his teams and has delivered on very challenging projects with William Sonoma and Macys.com. cPrime is very lucky to have him on our team!  Congratulations to Gary Goldstone, cPrime's December 2011 Consultant of the Month!