cPrime, the largest Agile education provider in the United States, customizes a practical Project Management and Agile Workshop for Year Up, a non-profit organization dedicated to training urban young adults in tech careers.
cPrime has been training and coaching medium to Fortune 500 companies in Agile and Project Management for over 10 years. They offer a full service solution in 
Agile transformations
 from Agile training to team augmentation. In December of 2012, cPrime conducted their first customized training workshop for
Year Up
 Bay Area students. In July, they delivered their second and third Agile Essentials class for the Year Up students. Through a high-support high expectations model paired with an intensive curriculum and corporate internship, Year Up provides urban young adults the opportunity to fully realize their professional and educational potential. Since 2000, Year Up has transformed the lives of 6,000 young adults. And, Year Up has proven results -four months after the program, 88% of Year Up Bay Area graduates are employed full-time or in college full-time and on average, after the program, Year Up Bay Area graduates make $16.38 an hour or around $30,000 a year.
cPrime's Year Up training focused on the basics of Project Management and dove deeper into the Agile methodology, which has expanding adoption across the companies Year Up's students intern for in the Bay Area. Some of their partners include Wells Fargo, Zynga, Bank of America, Kaiser Permanente and Electronic Arts. To make the class as beneficial and practical for the students, cPrime customized the course for the younger non-project manager students, but took real-world concepts from cPrime's 
Agile Essential's Workshop
. The workshop, which is conducted for cPrime's clients who are in the midst of adopting Agile, focuses on overcoming the roadblocks of adopting a new methodology while learning the fundamentals of a Scrum project. The course focused on Agile methodologies which are based on iterative and incremental development that promotes adaptive planning and flexible response to change. Students benefit from the practical hands-on knowledge of Scrum and skills conducted in the workshop because they can directly apply the concepts at their internship through the Year Up program and even in their full-time positions after the program. Further, participation in cPrime's training gave these students an edge during Meet and Greets with Year Up Bay Area corporate partners.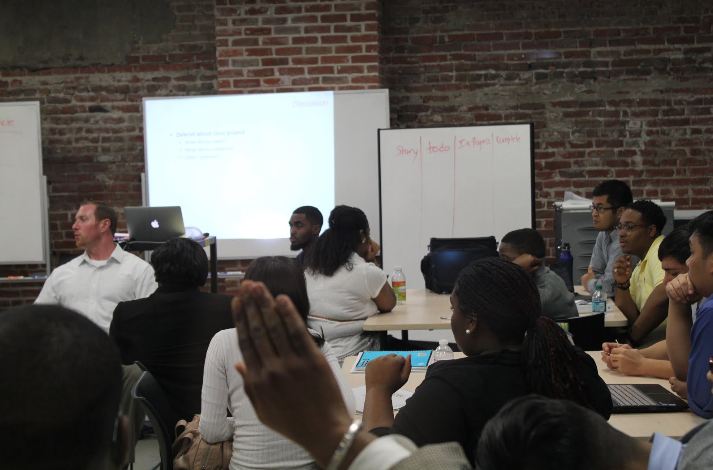 Brandon Huff, cPrime's 
Agile Coach
 who conducted Year Up's training, explains how the skills of a Project Manager are relevant to any career these students may choose to go into, "Learning communication skills, project, time, and team management skills are key to the majority of roles these students will employ". In addition, the students were taught the fundamentals of managing a Scrum project under the Agile methodology. During the training, the students simulated a real Scrum project with sprints, stories and retrospectives.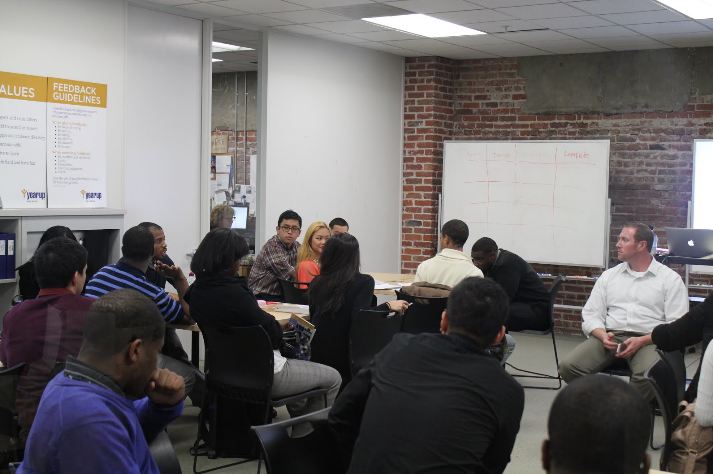 Year Up says the training was a huge hit for its students and many students are interested in pursuing a project management career. Jay Banfield, Founding Executive Director of Year Up Bay Area, explains, "This kind of contribution from cPrime offers our students incredible value and makes them even more prepared for the careers they will now have access to. We look forward to continuing trainings with cPrime in the future."
Year Up Bay Area student, Oscar Munoz, shares his feedback on the training, "I didn't know anything about the Agile process before this training and now, I walked away with a working definition for scrum, agile and waterfall. Even better, now I can actually talk through the concepts. Brandon is a skilled instructor and I appreciated that the training was very interactive – I was never bored."
cPrime's CEO, Zubin Irani, has been involved with Year Up for the past two years and has been participating on their  Silicon Valley board launch committee for the past two years. He is happy cPrime has the opportunity to give back to an organization that values education and innovative concepts, like the Agile methodology. They plan to provide more workshops to additional Year Up students in the future.
To learn more about Year Up and see the many student success stories from the program, please visit
http://www.yearup.org
. To see how cPrime is helping companies adopt Agile methodologies and learn more about their Project Management training curriculum, please visit 
http://www.cprime.com
.