ServiceNow has been called "the Salesforce of IT", and for good reason: It's a solid solution for IT support management under the right conditions. But, there are some limitations that can arise for users outside the ServiceNow niche. Unfortunately, this isn't always apparent off the bat, so some users may find they need to switch to a different solution after they've been using ServiceNow for some time.
We're going to explore why you might want to consider migrating from ServiceNow to Jira Service Desk. Then, we'll discuss how to migrate your customer service operations smoothly from one system to the other.
Why Consider Jira Service Desk Instead of ServiceNow?
Since you're already using ServiceNow, you already know why it's so popular. It boasts some impressive core features and a well-thought-out interface. It's always been a cloud-based SaaS, which is where more and more organizations are turning these days. And, users praise the company's own customer support as very helpful and responsive.
Jira Service Desk offers all the same core features, and some ServiceNow does not. For example, ServiceNow does not come with maintenance scheduling, remote access control, or patch management out of the box, while Jira Service Desk does. To be fair, both solutions have robust libraries of available add-ons and integrations that can fill nearly any gap in core features.
Both solutions stack up well, even in a head-to-head comparison. The deciding factor, then, won't be so much in which solution can do the job — both would work — but in how each fits into your larger business picture.
ITIL
For one thing, ServiceNow was designed from the ground up as a solution for IT service management using ITIL practices. ITIL is a popular framework, especially for enterprise-sized IT organizations. But, it's not used by everyone.
If your team abides by ITIL practices, you may find ServiceNow more strictly adheres to it. If not, however, some of the structure and workflows may be cumbersome or unnecessary. Jira Service Desk can be structured to support ITIL, but it offers more flexibility for teams that don't need that.
Price
Another important consideration is the price. ServiceNow is geared toward large, enterprise IT organizations. Their annual packages start at $10,000. Jira Service Desk, on the other hand, is positioned to appeal to a wider range of potential users, including smaller IT teams. At $10 per user per month (to start), you would need to have at least 83 agents to spend $10,000 annually on Jira Service Desk. In addition, with Jira Service Desk, you only pay for agent licenses but anyone can submit tickets. With ServiceNow, all users need to have a license, which can quickly lead to additional costs.
The Atlassian ecosystem
Jira Service Desk is automatically and seamlessly integrated into the larger Atlassian ecosystem of solutions. That obviously includes Jira itself, but also Confluence, BitBucket, Trello, and several others. If your organization is already invested in one or more of Atlassian's products, that could make Jira Service Desk the obvious choice.
To be clear, there are third-party integrations and add-ons that will allow you to run ServiceNow in tandem with Jira or any other Atlassian product. But, the homegrown integration of Jira Service Desk can offer all the benefits of integration with faster onboarding and a shorter learning curve.
How to Migrate Successfully from ServiceNow to Jira Service Desk
So, what can you expect once you decide to migrate from ServiceNow to Jira Service Desk? What challenges can you expect to face? And, what's the best way to mitigate those issues and facilitate a smooth migration?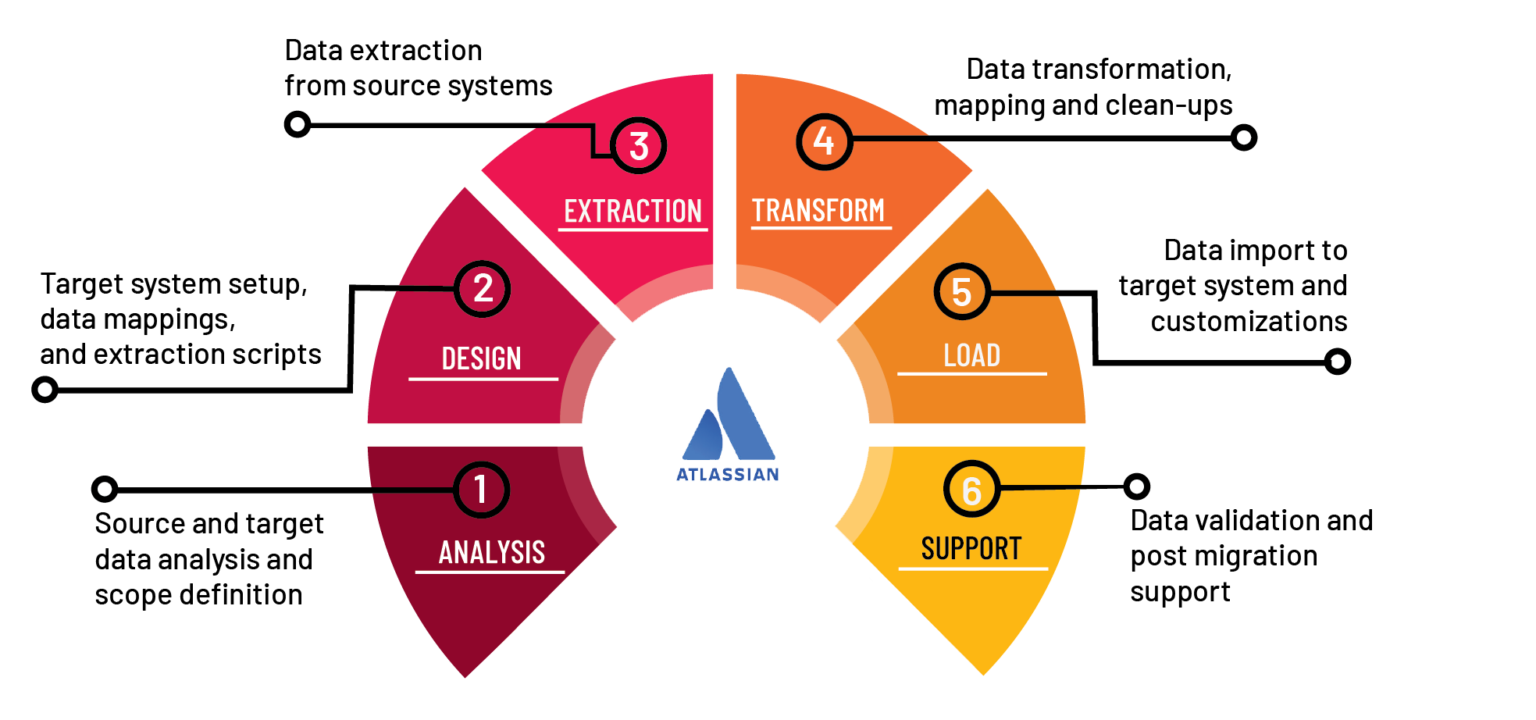 Challenges of complex data migration
As with any large-scale migration of data between different systems, moving from ServiceNow to Jira Service Desk is not a simple process. There are no push-button integrations between the two solutions that will make a DIY migration a piece of cake.
There are a few apps available for exporting some information out of ServiceNow and importing it into Jira Service Desk, but you can run into challenges you might not expect, especially with large datasets. The main issues you will run into include:
Incomplete ticket metadata
Loss of ticket hierarchy
Separation of internal and external comments within tickets
Complete migration of attachments
Proper mapping of the data upon import
The need for manual mapping
Unless you're intimately familiar with the data architecture of both ServiceNow and Jira Service Desk, you're sure to lose data along the way. Filling in those blanks to ensure that doesn't happen requires a manual data mapping process. Of course, any manual process introduces human error into the equation, and it also requires a significant amount of time. Since no one can shut down all productive work while migrating between systems, that time investment can be too high a price for most organizations to pay.
Conclusion
While ServiceNow has wide adoption, it has its limitations and, for many organizations, may prove to be costly and lack some much needed features and capabilities. Jira Service Desk emerges as a viable alternative which offers additional capabilities and a tight integration with the Atlassian ecosystem.
The combination of complexity, potential data loss, and high cost has led many organizations to seek out professional help when taking on a migration. In many cases, the cost of hiring professionals turns out to be less than you would have spent in delays and error-correction handling it on your own. Perhaps more importantly, it can make an otherwise stressful and frustrating experience much smoother, so your teams can focus on what they do best.
Contact the experts at Cprime today to discuss our full-service data migration solutions, including migrating from ServiceNow to Jira.