When we look at what cloud computing offers any organization, there are some universal benefits. We all know that the cloud provides flexibility, elasticity, and cost savings. It removes the need to make big expensive server purchases upfront and enables an organization to scale services as needed.  But sometimes the benefits are more hidden, especially when we look at public sector agencies where the mission is different than a corporate organization. In this post, we explore 3 hidden benefits of moving to the cloud.  While subtle, these should not be ignored when making the decision to move to the cloud as these more hidden benefits are often primary drivers for modernization within an agency.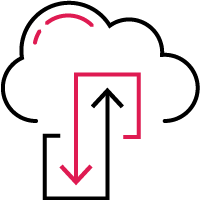 Hidden Benefit #1 – Using the Cloud allows for more effective use of limited IT staff.
Agencies often declining staff through cutbacks and hiring freezes as funding and priorities change. Average IT costs drop by 30-50% from the use of cloud infrastructure and applications. One hidden benefit to moving to the cloud is that agencies can use their potentially limited IT staff more effectively. If an agency uses a cloud PaaS provider, there is less 'hands on' maintenance of the servers or updates to the infrastructure, as the cloud provider can do many of the basic operational type of work such as maintain backups and apply patches. Scalable infrastructure allows an agency to quickly adapt as the virtual environment for applications and installations is tailored to your needs as a client of the cloud provider. An agency can request customizations around operating systems, environments, databases, web applications, security, and more.
By using FedRAMP guidance on cloud providers, agencies can know that they meet basic security needs and the collaborative effort to have the certification across agencies saves time and money as the agency does not have to do the certification directly.  Rather than focusing on basic infrastructure and other operations, they can focus on adding value to the end users by developing more features or supporting systems through modernization efforts.   All these factors enable agencies to use their IT staff in more direct mission specific ways.
Hidden Benefit #2 – Innovation increases in the Cloud.
Agencies often struggle with having time for innovative activities – simply keeping up with day-to-day work might be a struggle with limited staff. But we know users want innovative and creative ways to interact with an agency and to accomplish their goals. Another hidden benefit of using the cloud is that it enables innovation within agencies. By proving a much cheaper option than traditional servers and removes the often-complex procurement process of large infrastructure investments. In this way the cloud provides agencies the ability to try out new ideas relatively cheaply, and to create various environments to test product before making a large-scale investment.
Using the cloud also enables more collaborative development and faster deployments – moving away from physical servers enables many of the DevSecOps practices that are also encouraged across the government.  Having easier, faster development cycles enables faster feedback on whether new features are meeting the needs of users. Finally, the cloud is a native platform for future innovative software applications that focus on using mobile and Internet-of-Things (IoT) devices. Through leveraging modern technologies and practices, agencies will be able to deliver new capabilities and expand existing abilities to enable their mission and deliver services to the public faster.
Hidden Benefit #3 – Cloud solutions increase Mission agility.
Perhaps one of the most important benefits is that the cloud increases mission agility. When we think of the IT work in an agency, we often look at it as a necessary expense to supporting the mission. What we sometimes miss is that having agile, scalable IT services has become integral to the mission, and delivering valuable useful software is often the way our users see and interact with the agency the most and shapes their perception of the agency. Using the cloud enables organizations to scale rapidly when needed and scale down when demand slows – which is often the case in agencies where there is a compliance reporting cycle or submission period. The reduction in costs enables an agency to focus spending money and other resources, including IT staff time, on more important areas – such as developing new features or making system improvements to support mission needs.  An agency no longer has to make large, long term infrastructure investments but can add or change services relatively quickly. All of these enable an agency to adjust quickly when the mission demands changes, and this can support the agency to better meet their mission overall.
Summary
The cloud is changing the way the government achieves their mission – gone is the need for expensive, complicated infrastructure on premise, but instead agencies can have managed infrastructure through cloud IaaS or PaaS providers to help them meet their mission goals. By reducing overhead and allowing IT staff to focus on different, higher value work, by enabling innovation, and by supporting mission agility, the cloud offers many intangible benefits for government agencies. Moving to the cloud is not always straightforward and may temporarily increase costs as applications are modernized and moved. An agency must weigh the benefits against the cost and other implications to make a clear decision. As the CIO.gov cloud smart strategy states, "Agencies should assess their requirements and seek the environments and solutions, cloud or otherwise, that best enable them to achieve their mission goals while being good stewards of taxpayer resources." At Cprime/Genesis Consulting, we blend our deep knowledge in the challenges and restrictions of public sector work along with experience of cloud computing to enable the agencies we support to weigh these options, develop their cloud migration plans, make their move to the cloud, and achieve their mission goals.