Cprime's in-house designers developed a unique style for the brand's design system using techniques others apply to creating software.
Cprime has expressed many personas of its brand since the company's inception in 2003. This is typical: a brand is a constant, evolving expression, morphing and adapting to represent the strategy of a business, the expectations of customers, and the market at-large.
In Spring 2018, Cprime set out to reimagine its entire brand—its mission statement, company vision, unique selling proposition, even our color palette, typography, and photography—to reposition the company. Our brand at the time was recognizable, but lacked some important components, including iconography, to be unique.

Cprime consults organizations on agile methodologies, among other management techniques and a raft of products and technologies. The internal creative team leveraged its agile experience to create a rich, flexible, and unique visual vernacular for the company's growing global business.
Here's how.
What is iconography?
Iconography is a set of symbols or icons used to visually communicate a message or add visual support to a multitude of assets. Because iconography is graphic and not tied to an alphabet, it can transcend language barriers. Sigils can be universal and deliver a message to anyone, in any country, via the web, marketing collateral, presentations, and more. Further, if iconography is unique to a brand, it also increases brand equity.
Earlier variations of the Cprime brand leveraged the ubiquity and low cost of commercially-available icon libraries. However, as the business scaled and its offerings multiplied, the "stock" visual vocabulary failed to adapt. For example, a previous vernacular had only two symbols to represent a person: a bald man and a woman. Such a narrow palette is hardly ideal. Cprime works with a diverse, inclusive, global audience. We took the rebranding opportunity to create our own iconography and an extensible design system to respond and adapt to change.

Our process
We are a lean, cross-functional, distributed (remote) and agile, design team. Our team has talents that stretches from graphic design and illustration to web design. We started our endeavor with a very important question: How can we create an iconographic system to yield consistency between designers yet also permit creative freedom?
Our team works in two-week sprints, and prioritizes work based on the goals of each sprint. Initially, work focused on finding inspiration, documenting iconography trends, and analyzing our competitors' visuals and iconography. We used Mural to collect ideas.
The next phase was review. We considered all the contributions to the Mural board and weighed what worked for our brand. We also long debated what designs were "scalable", both foundational yet flexible to meet future demands.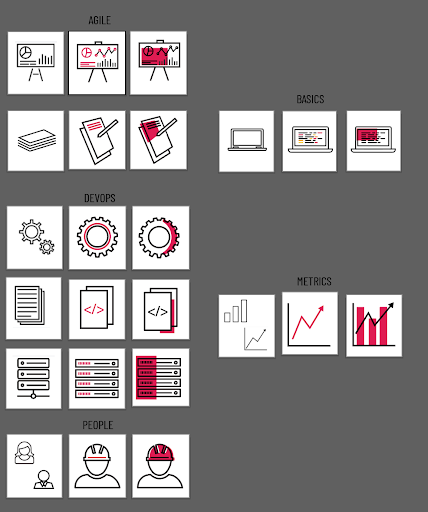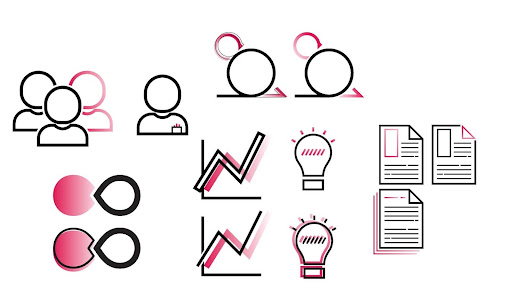 Finally, the team set out to create its design system. Specifics, such as line weight, color, and optimal size, provided a platform to build upon. For example, simple black lines with well-curated coral accents tied the new visual language to our existing color palette and identity.
The team created icons for common objects found in information technology, agile methods, product development, and more. We also created icons for people.


The new symbols were a vast improvement, but not quite where we needed to be. We received feedback that the icons for people, while better, were seen as white, since the images lacked skin tone. None accurately depicted individuals in our company or our customers. It's critical people identify with and relate to a brand's imagery. So it was back to the Mural board!
Cprime is a global company employing people all over the world. Being an IT industry leader, we want to create a space for better representation. Employees and the company's inclusion committee, The Root Cause, provided the team with continuous input. We discussed how to best represent different races, gender identities, religious backgrounds, body sizes, age, and abilities. We made vast improvements given a lot of perspectives. The result, as sampled here, was widely embraced.
A brand never stands still. It's up to us to continue building consistency and recognition of the Cprime identity. We will continue to innovate our design system, to scale and grow with our clients.


Resources
Ideation and collaboration: Mural & Slack
Project Tracking & Management: Atlassian Jira
Documentation: Atlassian Confluence
Storage: Google Drive
Design Execution: Adobe Illustrator
Ready to Get Started With Agile Marketing?
Learn More