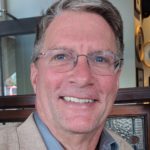 Martin Olson
As a SAFe Program Consultant Trainer (SPCT) and an Organization and Relationship System Certified Coach (ORSCC), Martin Olson tends to look at organizational change from the perspective of 'How can the changes to the system be introduced and supported in such a way that they are sustainable and meaningful.'

Because each environment is unique, Martin leverages the Scaled Agile Framework as a set of 'best practices' to help inform the system vs. an unyielding template to apply. He strives to maintain the principle of 'simplicity – the art of maximizing the amount of work not done'. Martin believes that SAFe often times provides clarity on roles, ceremonies, principles and practices that many traditional organizations need to continue their Lean | Agile evolution.

Martin typically focuses his energy on helping leadership understand: 'what' they must do, 'why' it is important that they realize new outcomes and coaching them 'how' to do lead from a new stance. Simply teaching patterns and models to those involved is never enough in his opinion. It is critical that people know what they are working towards and why it is important. In order to create a resilient team of teams, leaderships must engage teams' hearts, minds, intelligence and imaginations. Failing to do so will most likely lead an organization someplace short of where they want to be to remain relevant.
Certifications
SPCT | ORSCC