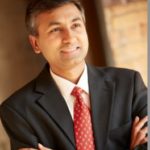 Samir Penkar
Samir Penkar is an avid evangelist for agile principles and practices with more than a decade of experience in program/ project management and running agile initiatives.
He is the author of the program management book From Projects to Programs. An early adopter of agile principles, Samir has coached numerous organizations in adopting and growing the agile mindset. He has led large programs for enterprises, championed agile for marketing organizations and experimented with applying Scrum to improve health and well-being.
Samir has been featured in The Wall Street Journal, Fox9 News and has presented on project management topics throughout the world. Samir was awarded the Diversity in Business award by Minneapolis/St. Paul Business Journal for his contribution to the industry and community.
Certifications
SAFe Program Consultant 4.0 (SPC4) | Leading SAFe® | Certified ScrumMaster® (CSM) | Project Management Professional (PMP)®