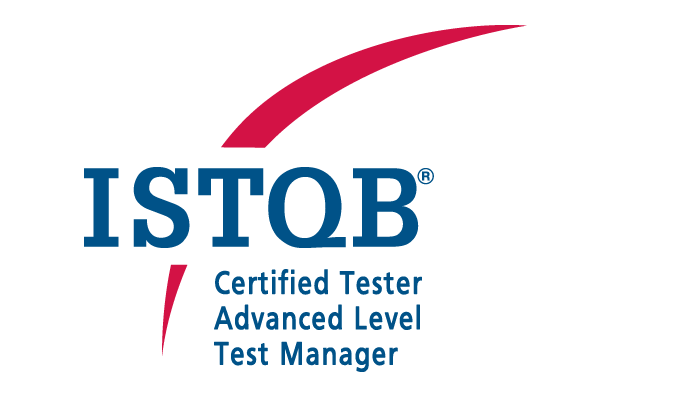 ISTQB Certified Tester Advanced Level Test Manager (CTAL-TM)
Prepare for the ISTQB® Advanced Tester Certification—Test Manager exam by practicing the method and techniques taught in this course.
The Advanced Level certifications offered by ISTQB are designed for individuals in the Software Testing/QA field who have a strong understanding of industry-accepted best practices and are ready to advance their career with an internationally-recognized certification.
In a five day setting, attendees will review the designated topics and prepare for passing the ISTQB Test Manager Certification exam. Each student will receive an exam voucher included with the cost of the class.
A summary of topics learned and covered on the certification exam can be found on the ISTQB website.
Duration
5 days/40 hours of instruction
Public Classroom Pricing
Private Group Pricing
Have a group of 5 or more students? Request special pricing for private group training today.
Part 1: Fundamental Test Process
Test Planning

Test Monitoring and Control

Test Analysis

Test Design

Test Implementation

Test Execution

Evaluating Exit Criteria and Reporting

Test Closure Activities
Part 2: Test Management in Context
Understanding Stakeholders

Who Are the Stakeholders?

Other SDLC Activities and Products

Alignment of Test Activities

Sequential Models

Additional Test Levels

Elements of a Test Level

Levels of Testing Within the Lifecycle

Managing Non-Functional Testing

Integrating Non-Functional Tests into SDLC

Benefits and Challenges of Experience-Based Testing

Managing Experience-Based Testing

Risk-Based Testing

Test Documentation

Test Estimation

Defining and Using Test Metrics

Business Value of Testing

Distributed, Outsourced, and Insourced Testing

Managing the Application of Industry Standards


 
Part 3: Management Reviews and Audits
Managing Review

Metrics for Reviews

Managing Formal Reviews
Part 4: Defect Lifecycle and SDLC
Defect Report Information

Assessing Process Capability
Part 5: Test Improvement Process
Improving the Test Process

Improving the Test Process with TMMi

Improving the Test Process with TPI Next

Improving the Test Process with CTP

Improving the Test Process with STEP
Part 6: Test tools and automation
Tool Selection

Tool Lifecycle

Tool Metrics


 
Part 7: People skills
Individual Skills

Test Team Dynamics

Testing within an Organization

Motivation

Communications
Software Testers with at least three years of experience
Sr. Software Tester/Sr. Quality Assurance Specialists
Software Testing/QA Team Leads
Software Testing/QA Managers
Anyone currently holding the Certified Tester –Foundation Level (CTFL) designation who has at least three years of testing experience
You will:  
Implement advanced test management practices into current processes

Understand the role of the Test Manager at each point in the process

Build and execute a high-quality test plan

Learn techniques for accurate test estimation and applying test metrics

Manage and report defects efficiently

Improve the quality of current testing practices

Identify and utilize appropriate test automation tools

Effectively communicate with and motivate testing teams

Take and pass the Advanced Tester Certification – Test Manager exam
Cancellations within twenty (20) business days of the event start date are subject to a 20% cancellation fee. Cancellations within fifteen (15) business days of the event start date are subject to the full event fee.
ISTQB Certified Tester Advanced Level Test Manager (CTAL-TM) Schedule
Jan 30th - Feb 3rd, 2023
9:30 AM - 5:30 PM ET
Request Private Group Training