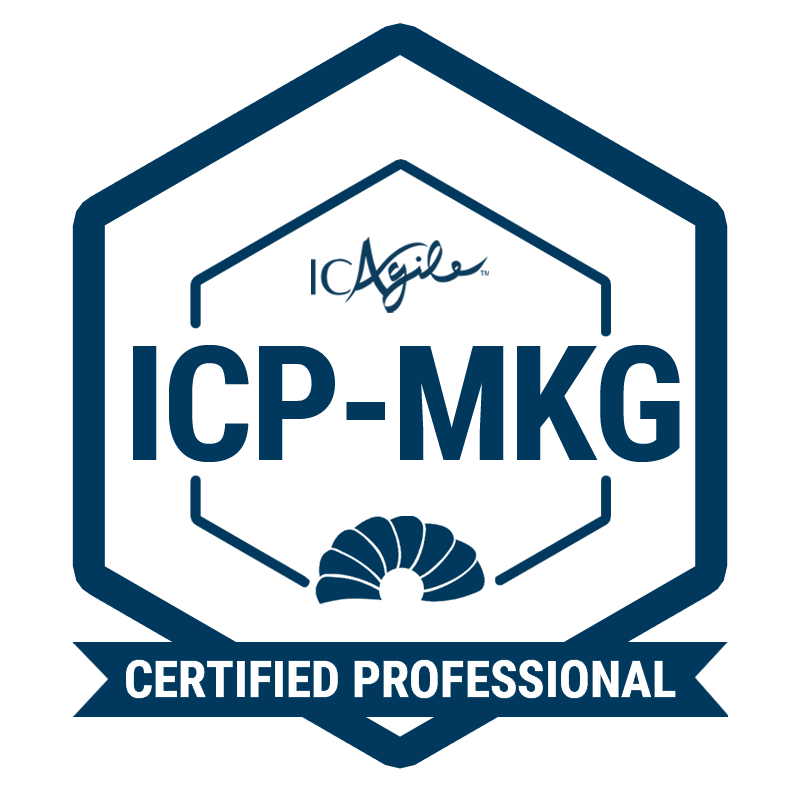 Certified Agile Marketer (ICP-MKG)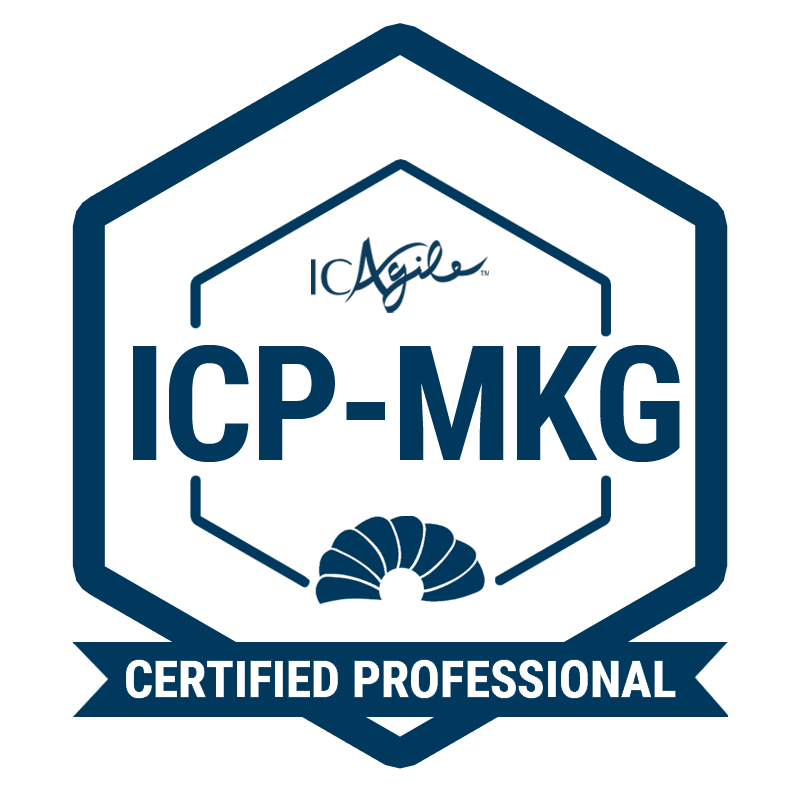 Marketers know they need to keep their skills relevant, and Agile Marketing isn't just a fad. Agile Marketing is a totally different way to work that focuses on customer-centric campaigns that can be delivered in just a few weeks. More than 60 percent of marketing departments plan to implement Agile Marketing this year. To stay relevant as a marketer, it's time to learn Agile Marketing.
The foundational approach of how marketing works has been disrupted by technology and the need for continual progress. Each week marketers are faced with changing market landscapes, requiring work to be re-done, or done quickly. Agile Marketing allows valuable campaigns to reach customers in one or two weeks instead of months or years. It also incorporates actual customer feedback, not your CMO's hunch, to make informed business decisions, and allows marketers to thrive in a culture of innovation.
This course is certified by ICAgile and successful participants will be able to earn the ICP-Marketing Certified Professional accreditation. This isn't just another class for software. We apply Agile to the marketing world.
Available formats for this course
In-Person
Live Online
Corporate
Corporate Online
Duration
2 days/16 hours of instruction
Pricing
GSA Price: $1018.35
Group Rate: $1195
Part 1: The Need for Agile Marketing
Learn the basics around Agile Marketing and why it's more than a fad.
Discover how new brand categories are disrupting marketing as we know it.
Explore six key challenges marketers are facing with traditional marketing.
Learn how Agile Marketing can help you overcome these challenges. 
Part 2: Defining Agile Marketing
Uncover what Agile Marketing really means (and we'll expel some of the common myths).
Discover the differences between Agile Marketing and common frameworks such as Scrum, Kanban and Lean.
Take a deep dive into the Agile Marketing Manifesto's Values & Principles and discover where you're aligned and areas that will require culture change at your company.
Learn what Agile marketers do differently than traditional marketers.
Part 3: Customer-Centric Marketing
In this section, you'll learn how to center campaigns around your customer (instead of your company).
Learn how to create campaigns that don't lose sight of your customers.
Explore social media and how personalization and quick response is imperative.
Practice writing minimally viable personas to understand customers' needs quickly.
Part 4: Marketing Planning that's Flexible
Discover flexible planning options that allow you to ditch your five-year marketing plan!
Learn how to focus your marketing on outcome vs. output.
Practice mapping out your work to discover your minimally viable campaign.
Learn to organize work in a single, prioritized marketing backlog.
Part 5: Teams & Teamwork
Learn the importance of collaboration and teamwork with Agile Marketing.
Understand how teams of generalists rather than specialists deliver marketing value sooner.
Discover why dedicated team players are key to the teams' success.
Learn how working at a sustainable pace determined by the team improves outcomes.
Part 6: Kanban Practices for Agile Marketers
During this Kanban simulation, you'll discover if this flow-based approached is right for your team.
Learn the basics of Kanban and its key principles.
Discover how to limit work in progress so work doesn't get 'stuck'.
See how visualizing work helps the team.
Determine how your team can discover its ideal flow to maximize done work.
Part 7: Using the Scrum Framework in Agile Marketing
You'll learn how Scrum has worked for software teams and how it can be applied in marketing.
Learn the basics of the Scrum framework.
Understand the three roles in Scrum and how marketers are changing it up.
Simulate the Scrum framework with an interactive game.
Part 8: Getting Started with Agile Marketing
Leave having an action plan for getting started with Agile Marketing at your company.
Choosing a method or methods that best fits your team and culture.
Explore how Agile Marketing teams have been formed by other companies.
Learn best practices for piloting and Agile Marketing team.
Marketing Managers, Directors, VPs or CMOs
Marketing Specialists or Coordinators
Marketing Analysts or Database Managers
Account Specialists
Field/Event Marketing Professionals
Media Buyers and Supervisors
Digital Marketers
Web or Print Content Editors or Managers
SEO Specialists and Marketers
Graphic Designers, Art or Creative Designers or Directors
Copywriters
Public Relations Professionals
Communications Specialists and Managers
Anybody on a marketing team
Anyone outside of marketing who works closely with the marketing team
Deliver more responsive, customer-centric marketing campaigns.
Make data-driven decisions by getting customer feedback early and often.
Use an agile mindset to create a culture of innovation through small experiments and quick learning.
Achieve outcomes through marketing backlogs and user stories.
Deliver marketing value by establishing cross-functional teams.
Establish a culture of experimentation and validated learning
All learning outcomes as required for certification by IC Agile
Although there is not an ICAgile official exam, ICAgile allows for their course accreditors to determine appropriate means for retention of the learning outcomes. Depending on your provider, there may be some type of assessment in order to earn certification.
Many providers assess via participation, activity and understanding conveyed via exercises and discussion, withholding certification when appropriate.
Certified Agile Marketer (ICP-MKG) Schedule
Location
Date
Price
Register
There are currently no scheduled classes for this course. Please contact us if you would like more information or to schedule this course for you or your company.
Learn more about corporate team training