MakeDev Program
Don't let the global tech talent shortage and unrelenting need for software developers hinder your organization's ability to continuously improve. The MakeDev Program provides readily available non-technical talent with newly found technical skills to drive innovation and customer value. They will spend four months working through the core curriculum, completing a set of coordinated projects, and then another two months with hands-on mentoring by established teams and coaches. Students are guaranteed to receive a tailored experience that identifies and addresses areas of challenge unique to the individual
" This program teaches individuals with little to no technical skills logic, programming, and full-stack application development using an "engineering for agility" mindset. The program focuses on helping individuals discover their learning styles and how to leverage these styles for lifelong learning through the strategic use of curriculum and coaching. " 

– Nate Ashford, Technical Lead Coach at Cprime
Start Transforming Talent to Tech Today! 
Learning Outcomes
Students learn to apply the following practices and concepts on your real-life product initiative:

Full Stack Development 
The program produces well rounded engineers with front end, back end, and data tier technology skills.

Personal Learning Framework
Students learn to leverage social programming and their learning style to accomplish individual and team goals.
Agile Engineering Practices
Students learn XP craftsmanship from the beginning so they can distinguish and deliver high quality code.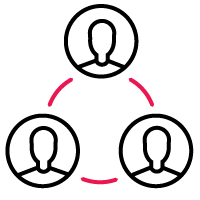 Team Collaboration 
The cohort learns to effectively work in a group environment leveraging communication, consensus, and accountability.

Career Transition 
As these students make the career transition, they receive real-time support to empower their long-term career choices.
3 Parts to the Program
Technical Coaching
Technical coaches support students as they complete the Training Program by monitoring and evaluating participants. Coaches will also identify learning gaps and facilitation of exercises, as well as, projects and assessments throughout. Creating a positive learning environment for all participants in the program.
Strategic Coaching 
Strategic coaches facilitate as many meetings as required with designated participants on dates and times mutually agreed upon by both parties to identify the timeline and specific requirements for execution of the MakeDev Program and prepare a project plan.
Strategic coaches advise on candidate selection criteria and process; program structure and management; equipment needs; security and access requirements; and other needs.
Strategic Coaches will coordinate with Technical Coaches to ensure the MakeDev Program Project Outline.
Training Program
The Training Program is an immersive online self-paced four (4) month training program used by participants to learn the skills to transition to a technology role. The program will include online written content, online labs, collaborative project development, and online videos. All of which are meant to align the development of technology roles.
Fill out the form to talk to a representative about getting started with the MakeDev Training Program today.