Online Help Guide
Get in touch with us directly
Learning Center Directions
Check out our step-by-step Guides:
Registering for an Online Course
STEP 1: Browse through our Online Course Catalog, or the online training page of the main cPrime site.

STEP 2: Add desired course(s) to cart and follow check out instructions.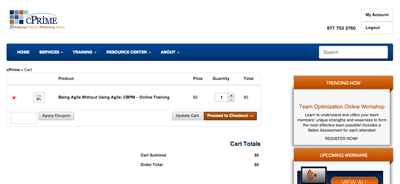 STEP 3: Click the "Access Your Course" link.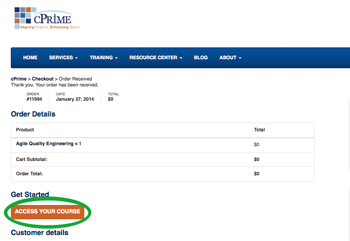 STEP 4: Find your purchase under "My Courses". Click course name to begin.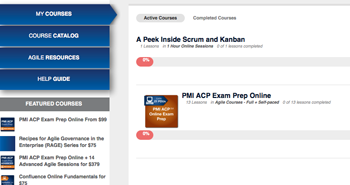 PDU Submission Process
All of cPrime Training Center courses are approved for PMI contact hours/PDU's. Please follow the steps below to submit your PDU's via the PMI website:
1.  Follow these instructions to report a claim for a Component event offering 1-2 PDUs. 2. Access CCRS and log in if you have not already logged into PMI.org. 3. A list of your credentials displays at the left side of the screen. 4. Click Report professional development units (PDUs) to begin the process. 5. Select the PDU Category and Activity Type from the drop-down list choices. Click Next to continue. 6. Type the Component ID or Component Name and click Next to continue. 7. Component Search Results display. Select the Component ID needed for your claim and click the Component ID to continue to the next step. 8. Type the activity description information into the following fields. Once all information is complete, click Next to continue. ◦ Type the Contact person name ◦ Type the Phone number ◦ Type the E-mail address and then type a it a second time for confirmation ◦ Select the Activity number (date) from the calendar ◦ Type the Activity title ◦ Type the Activity meeting number, if there was more than one event held by the same Component on the same day. 9. Type the number of PDUs earned for the activity for each credential and click Next to continue. 10. Check the box to indicate that the information you have provided is true and accurate and click Submit. You will receive a confirmation message stating the success or failure of the claim submission. 11. The confirmation page displays stating whether the claim was accepted or not. You may click Report Another Claim to continue working with claims or perform other tasks in CCRS. 12. DONE!
Don't See Your Course Anymore?
Check the completed courses tab!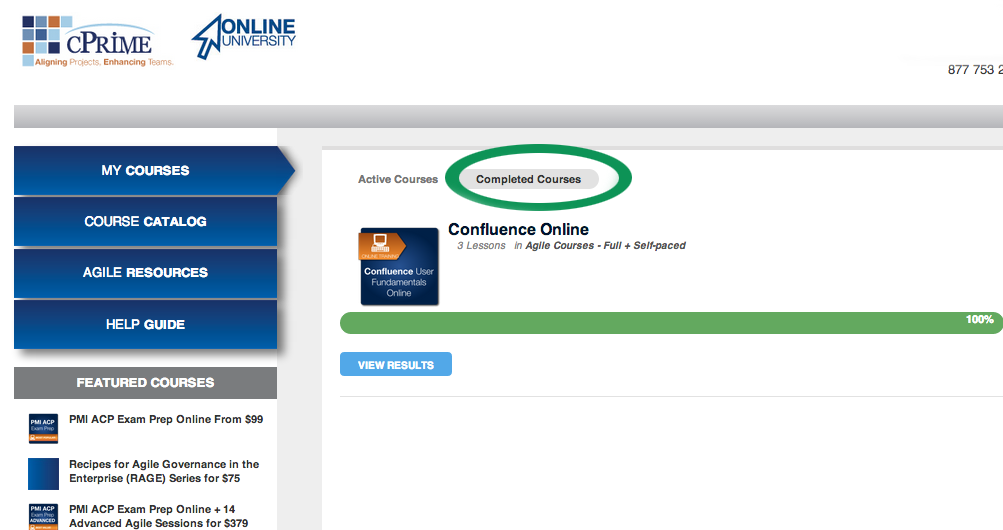 PMI Courses