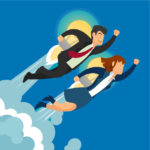 At a Glance
Industry:
Online advertising technology
Employees:
700+
Highlights of Engagement:
A successful implementation of JIRA Service Desk dramatically improves customer satisfaction and leads to its deployment to all support departments.
In the fall of 2015 cPrime completed a fast 120-day implementation of Atlassian JIRA Service Desk at The Trade Desk, Inc. (Nasdaq:TTD), to automate workflow and management processes for Global Support, which supports its Client Services department. This case study documents the engagement, beginning state and results of the cPrime engagement.