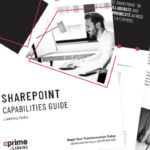 Equip your teams with the skills and knowledge needed to get the most out of your SharePoint platform.
SharePoint expert Greg Zelfond once said, "Neglecting SharePoint User Training during implementation is a crime."
We've been assessing, training, coaching, and consulting on SharePoint for over a decade, and unfortunately, have seen numerous enterprises invest fortunes into SharePoint/Office 365 licenses, custom development, and more – without a single dollar invested in SharePoint training for employees.
SharePoint isn't easy. It is a system that can live and breathe on its own, as well as interface with many other business applications. Which makes an understanding of the purpose of the technology, training on how to use and implement the product, and clear leadership and guidance on where the technology fits into the day-to-day work being performed, absolutely imperative.
Some of the images used were designed by freepik.com