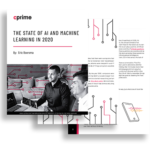 Many of us remember discussing the kinds of things computers would do in the far-off year of 2000. However, computers seemed to get off to a slow start, and by the year 2000, they didn't do much that didn't proceed straight from what they already did in the previous two decades.
Today, the state of Artificial Intelligence and Machine Learning has come a long way, and is moving at a pace that many organizations are struggling to keep up with. With this speed, AI and Machine Learning have a growing impact on our lives in both subtle and obvious ways.
Download this whitepaper today to take a deep dive into the current state of AI and Machine Learning, how it came to be, and where it is headed.
In this whitepaper, we will explore:
What AI and Machine Learning doesn't do in 2020
The State of AI and Machine Learning in 2020
How the computer can program itself
Writing your own AI
The future of AI and Machine Learning
And more!
Some of the images used were designed by freepik.com