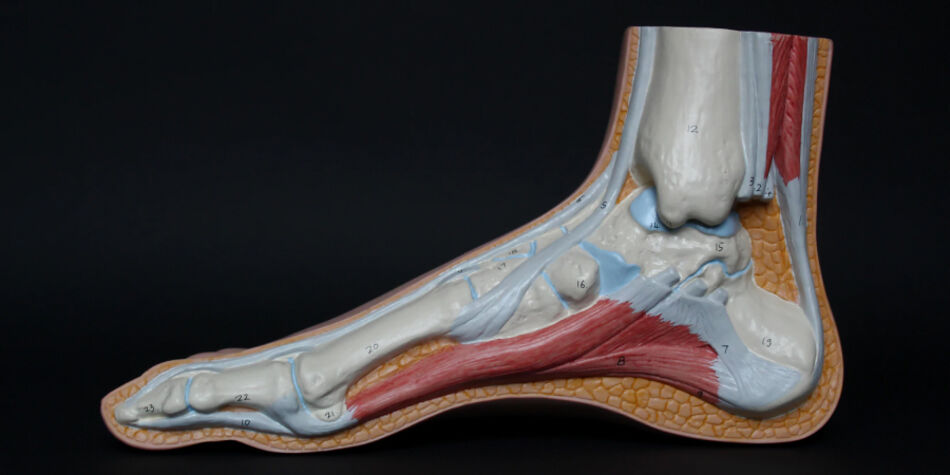 Telehealth refers to the provision of healthcare services to a remote patient. Implementing orthopedic telemedicine can help you stay competitive with other healthcare systems and platforms, and it will allow you to access the most efficient therapeutic strategies.
According to one report, the global telemedicine market is forecast to reach $41 billion by 2021. Custom-built telehealth solutions also provide other benefits and increase profits and patients are open to the concept, too. Just over two-thirds of respondents said they were willing to have a virtual doctor visit instead of an in-person consultation, according to one survey. Thanks to rapidly developing technology over the past few years, telemedicine companies offer multi-functional solutions that move healthcare outside of traditional clinics and hospitals.
The entire healthcare sector can benefit from telemedicine, but with the growing number of musculoskeletal injuries, orthopedic medicine is in even greater need of telehealth services. To understand why it's essential for orthopedic surgeons, we'd like to share our knowledge and highlight the most significant telemedicine benefits along with some of the key challenges of adopting this technology.
CASES OF TELEMEDICINE IN ORTHOPEDIC PRACTICES
It may come as a surprise that telemedicine orthopaedics is a great option because one would think that the doctor must examine injuries in person. But there are a few situations where a virtual care experience is sufficient and sometimes even better.
Let's have a look at five cases that demonstrate how an orthopedic doctor can utilize telemedicine solutions.
TELEMEDICINE IN RURAL AREAS
A lot of hospitals in rural areas lack resources and may not be able to provide adequate specialty care. Also, the hospital may be too far away and a local practitioner may be the first stop for a patient seeking care. Patients with musculoskeletal injuries are common. Even if the patient is seen in person, doctors can use orthopedic telemedicine solutions to connect with colleagues or other experts to ensure that their diagnosis is correct and that more urgent care is not required. This approach helps to boost local healthcare practice and avoid unnecessary trips to the emergency room (ER).
FIRST-STAGE TREATMENT
Patients suffering from slight back or neck pain, sprains, or minor arthritic issues, can use virtual clinic services to reduce the time spent on travel and waiting at the doctor's office. Patients are more likely to pay a small fee for an online consultation, instead of taking time off from work. Also, ePrescribe's built-in features help patients get a prescription remotely. After an orthopedist's examination, you'll get further instructions on your first-stage treatment, as well as whether you require urgent care measures.
SPORTS MEDICINE
With over 30 million children participating in various sports events annually, it's vital to provide robust healthcare. Unfortunately, it's not always possible to access appropriate medical assistance, including orthopedic expertise. Telemedicine might be a great option since orthopedists can strengthen on-site medical staff with a virtual doctor app.
ENHANCED POST-SURGICAL CARE
Providing and maintaining post-op patient support and recovery reduces hospital readmission. The adoption of a virtual doctor appointment feature helps a hospital to significantly boost post-surgical care and reduce the risks of Medicare penalties. Remote monitoring also allows orthopedists to control and adjust a treatment schedule for vulnerable patients while at home, thus reducing the rehabilitation period.
Post-op care and after-hours phone calls are time-intensive and often do not compensate. Orthopedic telemedicine solutions can be quite profitable for surgeons since every patient has to pay a fee before each virtual session begins.
TELEHEALTH NURSING
One of the biggest challenges in the near future is the skyrocketing number of older Americans. Based on recent data, the number of Americans over the age of 65 is forecast to reach 98 million by 2060. Nursing facilities may not be able to deal with this tremendous growth.
It is the perfect time to utilize cutting-edge orthopedic telemedicine solutions so that the elderly with knee, hip, and back issues can recover from home without having to visit the doctor's office for post-surgery follow-ups. Surgeons will be able to monitor people's health conditions through remote devices, providing invaluable post-op consultations and recovery strategies.
CHALLENGES OF APPLYING TELEHEALTH IN ORTHOPEDIC PRACTICE
Despite the benefits of telemedicine orthopedics technology and the acceptance of telehealth as a standard treatment practice by medical schools, there are still some obstacles to ortho telehealth implementation. We recommend doctors use their experience to determine whether telehealth services are suitable for a particular patient or situation.
For illustrative purposes, we'll take a look at the five most common challenges when applying orthopedic telehealth technology:
Insufficient knowledge: Physicians may lack the technical skills required for an app to work efficiently causing delays in the adoption process.
Data security: Most top-notch tech solutions come with robust, up-to-date security algorithms. Still, there's no system with 100% protection yet, so people may not be eager to share and store personal medical data via online platforms.
Poor compatibility: Due to insufficient investment in medical equipment for hospitals in some suburban and rural areas, healthcare providers can't close the gap between their legacy infrastructure and state-of-the-art technology.
Patients' concerns: Patients may distrust the accuracy of diagnosis or quality of care received via virtual visits. Skepticism about new technology, along with incomplete knowledge and/or lack of skills on the part of the doctor, might be substantial barriers to embracing new multi-functional approaches.
Lack of standards and regulations: Telehealth is a relatively new field, and there are still a lot of legal issues to be addressed. Moreso, clinics have to acquire specific licenses to be able to deploy telehealth technology features.
BENEFITS OF VIRTUAL CARE FOR ORTHOPEDIC PATIENTS
The obstacles mentioned aren't impenetrable. Telemedicine benefits are definitely worth your time and effort. All that you may have to do is sharpen your skills and acquire relevant knowledge to be able to work with virtual care technology. Don't be scared – an eye-pleasing design and easy-to-use interface allow a non-tech-savvy user to enjoy all the software benefits without much of a learning curve.
For patients, virtual clinic features offer alternative access to healthcare services, which may prove to be more convenient and cost-effective, reducing unnecessary and costly ER visits. Here is a list of the five most significant telehealth benefits for virtual orthopedic patients:
Today's patients need better care and comfortable conditions. No one wants to leave home or take time off from work and then wait for an hour or more to see a doctor, especially if you only have a few questions. Telehealth software reduces time spent on travel and waiting, saving patients both time and money.
Some patients might get an initial workup and skip the follow-up appointment, which could result in more serious issues such as an infection. It's much easier for patients to seek medical advice from home through a virtual doctor visit. A physician can then convince a patient to get an in-person consultation in case of a severe injury or one that requires an in-person visit.
Patients can monitor their health conditions with easy-to-use mobile apps. They can also get urgent health notifications and reminders. For example, once the surgery is scheduled patients get a link to a telehealth web page or mHealth app with further instructions.
In the post-surgical period, patients get an illustrative how-to list for performing aftercare practices. This kind of healthcare approach provides a faster recovery process.
Surgeons can remotely monitor their patients and control the situation in case more serious issues appear. Patients can always opt for video conferencing to ensure that the therapy is working or determine if an alternative treatment schedule is required.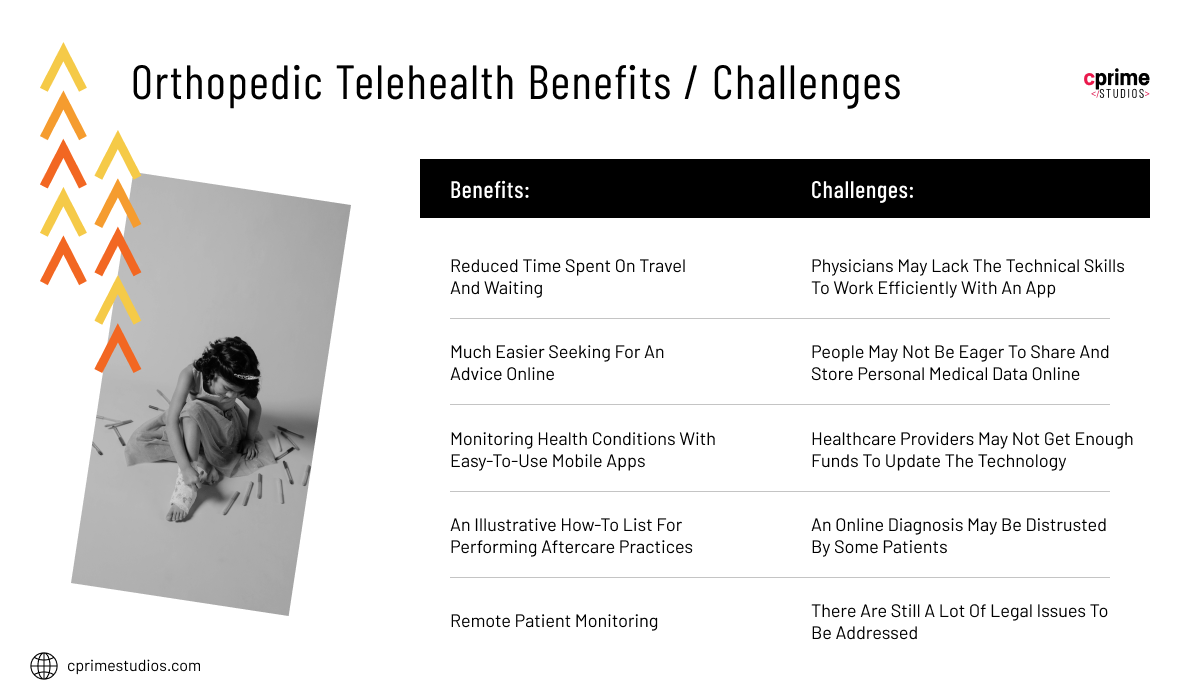 OFF-THE-SHELF VS. CUSTOM-BUILT TELEHEALTH SOLUTIONS: WHEN AND WHY YOU SHOULD BUILD YOUR OWN APP
There are two types of software a healthcare provider can opt for. Off-the-shelf is ready-made software designed for the mass market. A lot of startups tend to utilize this type of software because of low-priced subscription plans and simple functionality, yet it likely won't meet specific business goals. This software has limited capabilities and cannot be fully customized.
On the other hand, there is custom-built software designed for particular business sectors and their needs. This type provides excellent scalability and customizable application programming interfaces (APIs), as well as decent integration with systems and platforms. Custom-built solutions have rich functionality and invaluable features to exclusively fit a particular healthcare sector. For example, it is rather hard to find ready non-custom orthopedics EMR / EHR solution or software for orthopedic practice management that fully suits your own medical practise.
When it comes to the healthcare realm, the first concern is a person's well-being. There is a tremendous amount of information and a lot of details to consider when developing orthopedic software. Each healthcare sector has specific tasks that need to be integrated with current digital platforms.
The solution lies within the adoption of custom-built orthopedics software. Below are three reasons why you should opt for a custom-designed telehealth application for orthopedic telemedicine.
EYE-PLEASING DESIGN AND ENHANCED USABILITY
The app design is as vital as its infrastructure. It's the first thing a user sees and interacts with. Many off-the-shelf solutions can be unstable and poorly adapted for use. Along with non-adjustable elements, these mass-produced orthopedic apps can't help physicians enhance their overall productivity and streamline workflow.
Custom-built solutions provide excellent usability and intuitive interfaces powered by interactive elements. Developers collaborate with the target audience to come up with in-depth feedback and a complete understanding of the customer's core requirements deploying fully customizable flexible software, based on their needs.
PURPOSE-BUILT DATABASE
Orthopedic surgeons work with specific documents, standards, and templates, and keep various info in mind, whether that be treatment schedules, the patient's health condition, surgery schedules, and to-do lists, to name a few. It's not feasible for ordinary software to operate and process field-specific data to the same extent that a customized app can.
A custom-designed solution containing an exhaustive database that is tied closely to the scenarios of the specific medical facility allowing to get meaningful insights and deepen them over time. Interactive dashboards make document templates and patient histories easy to digest and search, which saves time for the physician.
EASY INTEGRATION
The amount of equipment installed in hospitals is enormous. The implementation of telehealth technology with other medical systems often leads to improved treatment strategies and better healthcare practices. However, each piece of equipment has its own software, security measures, and infrastructure, so it's almost impossible to find an off-the-shelf solution with middleware features on board.
To fully integrate telehealth software with other in-house systems and platforms, a healthcare provider has to opt for a workaround and hire an expert team to develop a custom-build product, powered by good middleware.
DEVELOPING A CUTTING-EDGE ORTHOPEDIC SOLUTION
There are about 51 million surgeries performed in the U.S. annually, yet both patients and physicians lacked the opportunity to acquire in-depth info on medical treatments until recently. The developed platform for patients was intended to allow rating and reviewing their treatment plans and outcomes and offer help in finding the best ones.
Cprime has developed and scaled the application to capture patient feedback along with free info on successful orthopedic treatment approaches. To strengthen the benefits and improve user experience, the solution is also integrated with medical facilities that wanted to use it as an additional option in their treatment strategies.
Thanks to the reviews from the patient community, Health Outcome is currently the largest treatment database for orthopedic cases, with over 50,000 treatment ratings and reviews. Users have access to a massive amount of data that provides insightful recommendations for orthopedic injury treatment programs.
These are the core features of the Health Outcome platform:
Patients can find the success rate of relevant treatments for an injury or condition.
For each condition, users can see all treatments patients have tried, ranked by outcome ratings.
Patients can personalize the ratings by filtering based on age, sex, weight, fitness level, as well as pre-existing conditions.
Users have access to treatment reviews, as well as specific treatment recommendations are given by either health experts or patients in the community.
KEY TAKEAWAYS
The entire telemedicine sphere is very promising and beneficial to both doctors and patients. Despite the adoption challenges, the advantages far outweigh the risks. This technology will be used globally in a few years, so now is the best time to deploy a telehealth solution for your needs. Here at Cprime, we adopt the most efficient healthcare-based technology and develop competitive solutions that fit your company's needs and requirements.
Contact us at learn@cprime.com to learn more.