If you're evaluating Atlassian Cloud offerings, your ability to implement governance in managing your configuration is key. A governance framework is critical for ensuring that your Jira instances (and all your Atlassian Tools), integrations, configurations and best practices, are optimized, well deployed and protected. Governance enables your company to:
Mitigate risk and maintain compliance
Ensure data integrity and improve data quality
Set, maintain and implement standards and best practices
Evaluate the impact and manage changes to the Atlassian tools ecosystem (like clean up and optimization)
Maintain the health and long-term continuity of the Atlassian tools ecosystem
Protect the company investment in the Atlassian tools ecosystem
You may already have a governance process that you consider extending to cover your Atlassian tools. Here are some key areas that often need special consideration: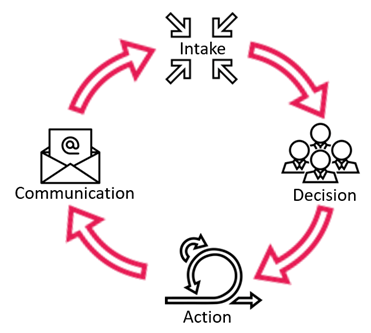 Add-on and integration changes – Changes in other tools may require changes in your Atlassian instance
Access and permissions – Leveraging a user management tool (Crowd, AD, etc) to help with alignment to security and management needs, ensure permissions can be delegated without administrator permissions
Change evaluation – A way to evaluate each potential change, it's risk, implementation plan, testing plan, and roll back plan with a standard template/approach
Communication – Clearly and easily communicate changes to end users through Confluence or Slack
Training/Enablement – Ensure all users can be trained/enabled on each change in the governance process. This activity often leaves behind documentation, recorded sessions for more complex functionality, or Learning Management System (LMS) training
Read more about Atlassian Governance.
So, what's this have to do with Atlassian Cloud? While your governance process defines how you manage your tools, the Atlassian Cloud Premium products have some unique features to assist with some common governance activities.
What Does Jira Cloud Offer to Support Governance?
Atlassian Cloud provides some key management, monitoring, and automation functionality to assist with your governance process.
Audit configuration changes
It's hard to manage a configuration if you don't know what has changed and who changed it. Atlassian cloud standard, premium, and enterprise versions offer audit logging for any configuration changes for the last 180 days. If you need audit details for more than 180 days, you can export the log files to review. Additionally, Admin Insights can provide key statistics about your Atlassian products usage including daily active usage over the past 30 days and percentage of inactive users with product access. Use audit information and Admin Insights for your regular review of the configuration as part of your governance process.
Backup automation
If you're invested any amount of time into your specific configuration (and supporting documentation), you want to make sure you don't lose it. Backups can help save your configuration but must be done regularly to ensure you have the latest configuration saved. Available to all Cloud products, Automated backups are generated daily and retained for 30 days to allow for point-in-time data restoration. Snapshots of the primary RDS are also taken daily.
Sandbox automation
Cloud Premium and Enterprise instances offer the ability to create a sandbox from your production configuration. This enables you to quickly and easily create a sandbox to test and evaluate any future changes before moving them to production. This is a critical aspect of both evaluating and validating any change to your production environment. We recommend a regular refresh of the sandbox so it's never far out of sync with the production environment.
Project archiving
Not all Jira projects run forever…some need some clean up without deleting data for reference. Cloud Premium and Enterprise instances offer project archiving that will archive the project and its issues, components, attachments, and versions. Issues will become read-only and can still be accessed via a direct link. Archived projects won't appear in directories and their issues won't appear in search. Jira admins can always unarchive and restore the project if the data needs to be accessed. However, archiving isn't supported for Jira service desk projects at the time of writing.
Access control
You don't want any user to be able to change your configuration so clear access control is needed to align to both security standards and governance needs. While all Atlassian products have detailed access management abilities, sometimes additional control is needed. In Cloud Premium and Enterprise instances you can specify which IP addresses users must use to access content for Jira Software, Jira Service Desk, and Confluence. When you set an allowlist for Jira Software Premium, it applies to the Jira Service Desk customer and agent-facing portals on the same site.
IP allowlists currently apply to these pages:
Jira tasks, issues, projects
Confluence pages and spaces
Jira administration
Confluence administration
This combination of access control (along with access management with Atlassian Access) can help ensure the right access to the right people for the right products.
Process and data automation
Governance can often help ensure Atlassian products collect the right data at the right time to support user and business needs. Automation can support our good intentions in collecting this information by minimizing manual entry and intelligently resolving copy, move, transition and date issues. All Atlassian cloud offerings offer automation to provide an easy UI-based way to create process, workflow, or data automation. Additionally, it allows you to verify execution and monitor overall automation usage in your Atlassian products. While not as powerful as Cprime's Power Scripts, it's a great way to save time and ensure solid data integrity.
Time and bundle new releases
With the Cloud Enterprise offerings, you will have the ability to delay the roll out new features for up to two weeks. You can use this time to understand the new features, enable users, and document appropriate usage. While this feature isn't available at the time of this writing, we are confident it will become an important part of your governance and change management processes.
What Else do I Need to Consider?
While there are many aspects to consider as part of a move to Atlassian Cloud products, you will need to specifically evaluate:
Which version of Atlassian cloud is right for you
Clean up/optimization needed for your move
Evaluation of your add-ons for Cloud
Reach out to Cprime for help with your evaluation as you plan your move into Atlassian Cloud.