Our Employee highlight of the month is Kyle Blakely, our Senior Support Consultant! See what he's up to outside of work, and what motivated him to join Cprime.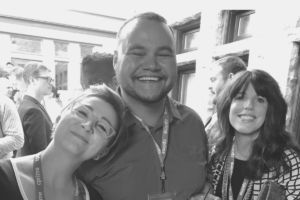 Q: What attracted you to Cprime?

The flexibility of remote work and the potential for travel. Since we have customers all over the US, I had hoped we might have more in tropical locations!
Q: What led to your decision to join?

Ultimately my first call with Brandon Huff, he was someone that I wanted to work for.
Q: What's your favorite part of the job?

The people that I work with! The stress of the high pace is balanced out by the right people to have a beer with.
Q: How would you describe your approach to leadership?

At the end of the day the most important thing is that we keep moving and get the job completed. I try to make sure that we don't sweat the small stuff and don't pet the sweaty stuff.
Q: Three things that many people don't know about me.
When I was younger I wanted to be a musician or design video games. I've been featured in the credits of 2 video games for music work
I played competitive Smash Brothers and DotA for a time in my youth.
Home automation is my JAM. I spend a lot of time with new tech automating my life
Q: What is a day in your work life like?

Fast-paced! I think that our customers must all live in New York because they never sleep. I spend a lot of time on customer calls making sure that things are going smoothly, reviewing SOWs and driving progress.
Q: If you were a superhero, what superpower would you want to have?

Invisibility. Flight is cool but think of all the food you could eat in peace.
Q: If you were to write a self-help book, what would the topic be?

"How to Tell Your Coworkers You Watch Anime: A Book for Weebs in the Workplace"
Can you see yourself working at Cprime? Look at our current openings!
Learn More