Let's set a familiar stage.
You've gotten your team together and you are eager to get to work.
You've invested in Atlassian JIRA. You might be using Script Runner and/or several other apps from the Marketplace – you're tab keeps rising but you're still NOT getting all the functionality you are so desperately needing.
Look no further than to Power Scripts for Jira
"If you have the option to chose only one Jira app, make sure it is Power Scripts for Jira"
Cprime's Power Scripts for JIRA™ is an easy to use, feature-rich plugin that will make your Jira just plain work even better. Forget about adding tens of plugins to your Jira installation: this is all you need to create any post-function, validator, or condition in your workflows. Our philosophy was to empower the customers and to create a Jira installation that will meet the needs of the users in the most simple manner – no special knowledge of the Jira internals necessary. With that in mind we created a Jira adapted language, Simple Issue Language 4.0, or simply SIL.
When it comes to Jira functionality, you dream it and chances are that Power Scripts can bring it to fruition. Heavy workflows, integrations with internal/external databases and enterprise systems, system updates and more, are all easily automated. But the big take away here is just how easy it is execute. Customers report a 50% reduction in implementation time.
Here is why. Take a look at what a command looks like on Groovy (Script Runner) versus SIL (Power Scripts for Jira)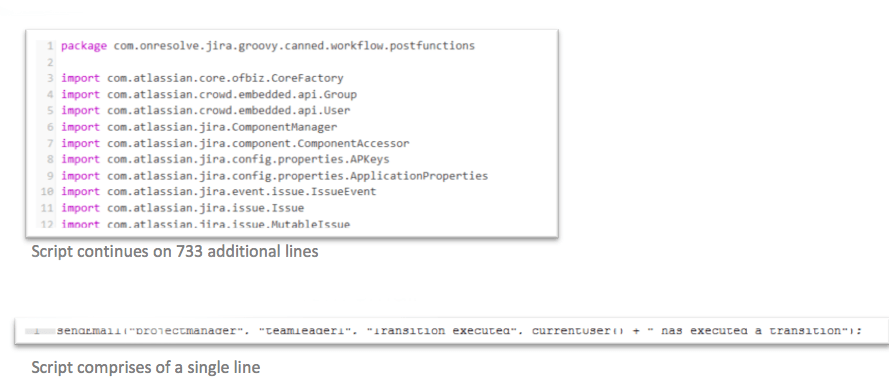 The table below looks at Power Scripts for Jira and Script Runner feature by feature. Take a look: