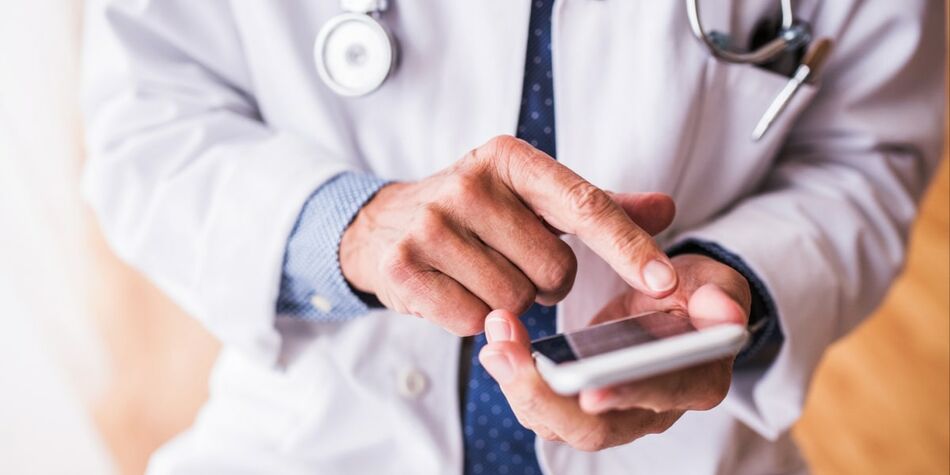 There is a diverse variety of tools and technologies that are available to help your healthcare services benefit from telemedicine solutions. Are you already taking advantage of them? If no, we would recommend you to read this article and find out what telehealth solutions will come in handy for your specific tasks.
Due to digitization and technological innovations, many industries have turned to remote solutions. Healthcare also has its response with telehealth technology or so-called telemedicine, which is the use of digital data and communication technologies, such as computers and mobile devices, to access health care services remotely. The best tool to conduct telemedicine is a telehealth services app.
A study from JAMA revealed that telemedicine has been steadily growing within the insured US population, and in 2018 there was a rapid increase in growth for primary care telemedicine.
In 2017, according to Stratistics MRC, the Global Telemedicine Market accounted for $21.56 billion in spending. The forecast by Statista says that the market is expected to grow significantly by 2021., Its value in the US alone is expected to be more than $41 billion.
There is a growing demand for telehealth services and telemedicine apps. According to a survey by American Well, one in five healthcare patients would prefer a primary care practice that offers telemedicine.
While some patients are still going to the doctor in person, others are finding new doctors that offer telehealth in few clicks from the comfort of their telemedicine mobile app just like they use Uber for rideshares.
Telehealth apps are the latest eHealth innovation that you can use right on your phone. You can find out more about this option below.
What are the key drivers for telemedicine adoption?
The Healthcare domain is changing rapidly and the adoption of telemedicine has various drivers that are pushing this process forward. Below are some of the key drivers.
The development of technology. Technology has come a long way so virtual doctor appointments can be as convenient as in-person visits. There are high-quality video call tools like Skype or Zoom and different telemedicine apps that make virtual visits easy. These technologies are driving the demand for telemedicine.
The Affordable Care Act provided health care coverage for about 16.4 million uninsured people in the US, but it did not ease the pressure on an already-taxed healthcare system. Healthcare providers have to become more efficient to meet the increased demand, and telehealth providers are a solution that can help doctors and clinics serve more patients in less time.
Reimbursement laws are also a driver for the spread of telehealth services. The population is aging, the prevalence of chronic diseases is rising, and more healthcare services are needed.
Telemedicine insurance coverage: what are the Medicare and Medicaid options?
While talking about healthcare, we want to make some notes about Medicare and Medicaid coverage. These are government-sponsored programs in the US that were created to cover healthcare costs for Americans. The organizations were established in 1965 and are funded by taxpayers. Even though they have similar names, there are some key differences between them. Medicare is medical coverage for people aged 65 or older and has nothing to do with income level. Medicaid is created for people with low incomes.
The most popular types of remote clinical services
Telemedicine has different solutions for remote clinical services depending on the disease and other circumstances of the patient. We would like to highlight some of them:
Telepsychiatry (telemental health) includes a range of services including psychiatric evaluations
Telehealth primary care is comprised of online doctor visits
Teleradiology is for x-rays, CT scans, and MRIs, where online meetings can be held to share studies with other radiologists and physicians
Telehealth nursing, which constitutes delivering nursing care in a remote location
Remote patient monitoring entails collecting and transmitting patient data
Teledermatology offers remote dermatology services
Teleophthalmology provides eye exams using video calls or store-and-forward telemedicine technology
Teleoncology cares for patients with cancer using video calling and photo sharing
Teleobstetrics provides prenatal care
Telerehabilitation is video consultations for patients who need physical therapy
Advantages of telemedicine apps
Telemedicine is an innovative approach to healthcare that also requires a relevant tool to conduct online visits. These apps are useful for both the physician and patients, so there are telemedicine apps for doctors and different telemedicine apps for patients. These apps make the process of high-quality video calls easy and also provide tools to match patients with the right doctors. There are significant benefits telemedicine apps can bring including:
No need to install specific software and no special device is needed. Video calls always have potential issues, but thanks to apps the process is set up for ease of use by both patients and doctors.
Telemedicine apps help patients who don't have access to doctors, whether it's related to income, limited mobility, or urgency. In some cases, there is no time to go to the hospital when the life of a patient depends on the timely and qualified actions of the medical staff. Also, apps significantly reduce the overall cost of medical care.
Telemedicine apps for physicians can be a good resource for medical education, allowing the sharing of best practices and access to the most reliable information.
Telemedicine apps may be more convenient for those patients who feel comfortable talking with a doctor from the comfort of their home.
Disadvantages of telemedicine apps
There are also some disadvantages of telehealth apps as these tools are new to healthcare.
There is still a need for specific telemedicine equipment on-site, which can be costly to set up and maintain.
Some patients prefer personal face-to-face communication.
Certain types of conditions and illnesses cannot be diagnosed through telemedicine.
Reon fast and stable internet or data connections.
The best telehealth apps
Telehealth apps are in high demand, so there is a large selection of them. We would like to highlight some top-rated telehealth apps below.
MDLive (rated 4.7 stars by iPhone and 3.3 stars by Android users)
This HIPAA and PHI compliant platform allows patients to connect to medical and pediatric doctors and access behavioral health therapy services and psychiatry.
Amwell: Doctor Visits 24/7 (rated 4.7 stars by iPhone and 4.3 stars by Android users)
Amwell is a HIPAA compliant app that provides service from American Well, one of the biggest companies in virtual medicine and telehealth.
Doctor on Demand (rated 4.9 stars by iPhone and 4.7 stars by Android users)
This is another HIPAA-compliant healthcare app that is available to everyone, with or without insurance, and is useful for different cases.
These telehealth apps allow fast and easy doctor appointment scheduling, secure live video chats with board-certified doctors, and drug prescriptions.
Telemedicine app development solutions made by Cprime for our clients
The first project was a national healthcare communications technology company. The company develops mobile, on-demand, HIPAA-compliant systems that unify healthcare professionals within and between organizations by simplifying communications to accelerate, consolidate, and control information sharing.
We created an MD Chat application (both web and mobile), which Cprime developed from scratch. The app offers secure, HIPAA compliant, real-time access to healthcare professionals including physicians and other specialists via any computer or mobile device.
Another project developed by Cprime is non-HIPAA covered. It is an evidence-based treatment recommendations platform. Health Outcome provides chronic orthopedic patients with an online exercise program and recommendations based on information from 40,000+ patient treatment outcome records combined with a non-invasive methodology from spine experts.
How to develop a telemedicine app
There are several stages of telehealth app development including evaluation of the idea by experts, business analysis, market research, and a unique value proposition.
Creating a telemedicine app requires a system architecture and development stages that include:
System Analysis and Design
Architecture and Data Security
Frontend and Backend development
Mobile Development
Embedded Development
Quality Assurance and AWS DevOps
The last stage in the product cycle is business growth and operational services, which include the stages necessary for successful post-launch operations:
Help desk setup & support
Localization into 70+ languages where is needed
Recruitment and team extension
To create a telemedicine app, you will need to find a decent telemedicine app development company that has experience in the healthcare domain specifically with telemedicine apps.
Cprime knows how to make a telemedicine app that earns HIPAA-secure status, has proper functionality, and user-friendly design. Get a quote and let's discuss your project!