As a proud member of the Cprime Talent Acquisition Team, I wanted to highlight my team and to give you all an idea of the kind of amazing individuals you would find if you were working at Cprime. We got together (virtually of course) and answered some out-of-the-box questions. Keep reading to find out more about our Talent Acquisition team here at Cprime!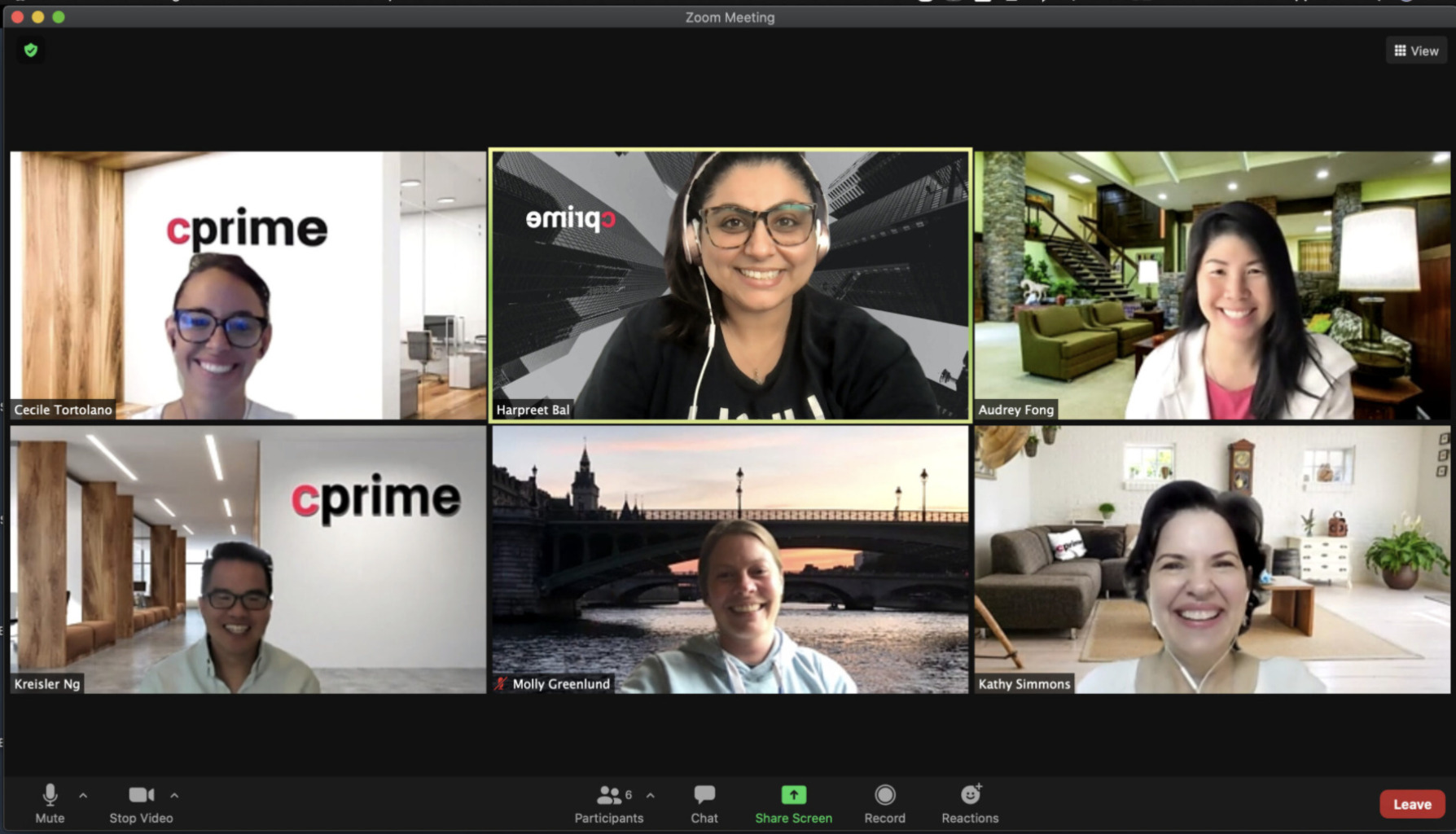 "What would you do as a career if you weren't working as Recruiters?"
Let me tell you, we got some interesting answers!
Our newest Talent Acquisition Lead, Kathy, would be working in Law Enforcement. It turns out that she started her professional life working with communities and offenders doing parole and probation.
One of our Senior Recruiters, Happie, would dream to be an FBI Agent! Well…she said she would also run a dog shelter or maybe open up her own restaurant.
Talking about cooking, did you know that our Manager, Audrey, was previously a Chef?
Our VP of Talent Acquisition, Kreisler, is a huge coffee connoisseur, so it only made sense when he said he would be a barista at a local coffee shop or even manage his own coffee shop. He'd love to have people come in and enjoy good cup of coffee in a welcoming environment.
This takes me to the traveler of our pack, our Senior Recruiter, Molly. She would love to travel the world and get to know different cultures and see how people live in as many countries as she can. This resonated a lot with the rest of the team as well.
As for myself, a recruiter, I'm not sure, but I would go with something more artistic. As Molly said, "I want to be famous!" Maybe this article will bring me that stardom – who knows?
"What is the best career lesson learned so far?"
The team was in consensus when it came to the answer, which was always being open to opportunities. Being in constant contact with all teams across Cprime, we understand that things often change for the best, and being in the middle of it all, it is important to trust yourself and your instincts. Also, we don't know everything, so it's important to always keep an open mind!
"What is your personal motto?"
The answers we each had were very different, but these three resonated the most with us all:
Hakuna Matata
Carpe Diem
Be the person your dog thinks you are!
"Find a word that would describe you all as a team."
It was really hard for us to settle on just one, but we finally came to agreement with our one word that describes us as a team – FUN! (We're not completely at the stand-up comedian level that some of us think we are; however, I would say our team has a great sense of humor, and we have fun in our everyday jobs here at Cprime.)
Some of the other words we came up with were: energetic, supportive, customer focused and…investigators (which makes sense since one third of the team is interested in law enforcement…)
"What is your team's top 3 favorite Cprime Values?"
We decided on teamwork, integrity and action (our CEO's favorite!).
"If you had to choose between being the smartest or the funniest person in the room, which would it be?"
We unanimously agreed on this question with no hesitations. Since we all already like to think we're stand-up comedians, we would all definitely rather be the funniest!
Ultimately, we didn't become a great team overnight. We have been working together for a while and certain events brought us closer and made us stronger as a team. Surprisingly, COVID was one such event. We all reside in different parts of the country and because of COVID shutdowns, we were given the chance to really get to know one another through Zoom calls, Slack conversations, and sharing of TikTok videos. Our team had the chance to work on projects outside of Recruiting, which brought us together and gave us the opportunity to learn something new. Being able to partner with each other on recruiting new roles and working on Talent Acquisition projects allowed us to truly understand each of our working styles and how well we complement one another.
Thanks for learning more about our TA team – stay tuned for our next Team Spotlight!
Can you see yourself working at Cprime? Look at our current openings!
Learn More