A New Approach to Agile and Devops Adoption
Software Services Lifecycle Management (SSLM)
The Problem
| | | | |
| --- | --- | --- | --- |
| Resistance to "tools" is slowing software delivery industry progress | Agile training and coaching fail to address technical requirements | Agile coaching is increasingly viewed as lightweight and ineffective | Process and Automation Technology are intersecting and colliding – but tool chains and services not fully meshed |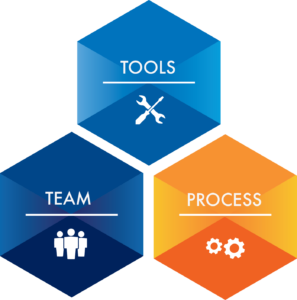 The Solution
Software Services Lifecycle Management (SSLM)
We believe the industry needs unified software services, where process and tools converge in order to support the connected world of software delivery
Software Services Lifecycle Management (SSLM) addresses the fragmented way software and services are used to support Agile, DevOps and ALM initiatives. It unifies the teams, processes and tools used to build applications through a unified approach to software services that removes the cultural barriers that result in siloed operations and disconnected software delivery workflows. SSLM promotes an integrated and comprehensive approach that supports the software goals of an organization. As Agile and DevOps, reach further into the enterprise, SSLM establishes the need for tool and process convergance, and building a unified, integrated strategy.
Connect with our experts to discover how the SSLM approach can help your organization:

The Benefits
Value in Convergence

Can you imagine paying hundreds of thousands of dollars to get your organization trained in Agile, only to use a tool that hinders that process? How about paying for the configuration of a new software that can't possibly support your process? This is the problem we see in the industry today. One service is negligent of the other when the real value only comes from their convergence.

Single Source of Truth

Enjoy a consolidation of knowledge and expertise; one source for truth. When coaches understand the organization inside out, process and technology, problems suddenly become less complex, configuration is suddenly less of a challenge and training is suddenly more relevant.

Organizational Alignment

Agile service companies preach alignment, but can the organization be aligned with process and tools that do not talk? With a unified approach, companies see increased visibility, productivity and efficiencies, not just among teams but among all departments in the organization.

Faster software delivery – more fulfilled teams

Firing on all cylinders is nearly impossible with process and tools that do not tightly integrate. It is difficult to ignore the impediments presented by a siloed approaches to these aspects of delivery. Convergence of teams, tools and process – the building blocks of project delivery – enables delivery with unrivaled speed a quality.