DevOps Kickstart Package
Our technical experts will get your DevOps practices up and running from end to end. From carefully analyzing current practice to integrating all development tools from source control, issue tracking, knowledge base, to build systems, deployment scripting, integration tests to environment monitoring, our Kickstart package will help fill in the gaps and relieve the bottle necks to get your releases on track!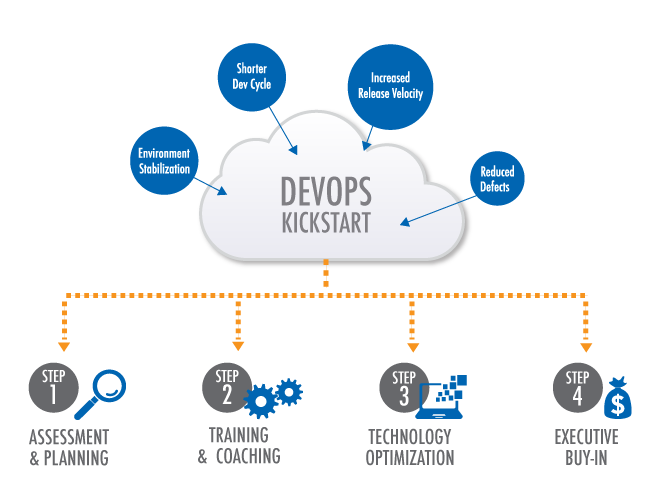 Get Started with DevOps!
Contact us to strategize your plan to kick start DevOps in your Organization!
Step 1: Assessment & Planning
Assess current DevOps practices and identify required changes: Continuous Integration, Continuous Deployment, DevOps culture, tool automation, team skill set, management techniques and more.
Step 2: Execution
Training and Coaching Investment in Devops, Create CI/CD pipeline, Design Continuous Integration from source to software artifacts, Design Continuous Deployment from Artifact Storage to multiple environments, and running integrated testing.
Step 3: Sofware Integration
The success of DevOps practices requires that software is optimally utilized and integrated at all levels. cPrime partners with all the major vendors that make your DevOps strategy a reality. We can get you the licensing and training you need, and send our technology experts to work with you to fine tune and customize your process.
Step 4: Executive Overview
Assessment of DevOps awareness: current and required practices, Benefits / ROI of DevOps practices, Why DevOps needs commitment by executive teams, Why old job roles are re-advertized as DevOps? Improve employee retention. Attract better candidates.