SAFe® DevOps Practitioner (SDP)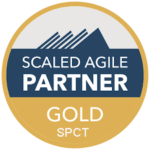 This two-day course provides a comprehensive overview for understanding the DevOps competencies needed to accelerate time-to-market by improving the flow of value through the Continuous Delivery Pipeline. Attendees will map the current value stream through their delivery pipeline from idea to cash, and identify practices that will eliminate bottlenecks to flow.
The course will build an understanding of the complete flow of value from Continuous Exploration to Continuous Integration, Continuous Deployment, and Release on Demand. Attendees will explore SAFe's CALMR (Culture, Automation, Lean, Measure, Recover) approach to DevOps, which helps create a culture of shared responsibility for the full spectrum of Solution delivery. It helps align people, processes, and technology throughout the organization to achieve faster time-to-market.
Attendees will leave with the tools they need to execute an implementation plan for improving their delivery pipeline, and the knowledge they need to support the plan. The course also prepares students for the optional SAFe® 4 DevOps Practitioner (SDP) certification exam.
About the Student
This course is ideal for SAFe Program Consultants, Agile Coaches, Leaders and Managers, Scrum Masters, Program and Project Managers, and Solution Train Engineers.
Duration
The SDP Course is 2 days long, each day beginning at 9am and ending at 5pm.
Prerequisites
Anyone is welcome to join this course. You must complete both days of class in order to take the exam.
Exam Details
The Exam is delivered online through Scaledagile.com The exam is 45 multiple choice questions and has a time limit of 90 minutes. Students have 30 days to complete the exam after the course concludes, and 1 try at the exam. Retakes of the exam are $50.00 with Scaledagile.com. A passing score is 33/45.
Cancellation Policy
All cancellations or date changes must be made at least 10 days prior to the course start date or will be subject to a $150 late-move/cancellation fee. No-shows or same day move/cancellations are non-refundable.