Confluence is an easy to manage enterprise wiki that enables organization, collaboration and visibility throughout the organization. Customize spaces for teams, projects, or departments with unique permissions and themes.
Keep information organized and accessible
Create and edit all the content in your web browser.
Encourage discussion, collect feedback with threaded comments, mentions, and likes
Connect to JIRA for an even better workflow!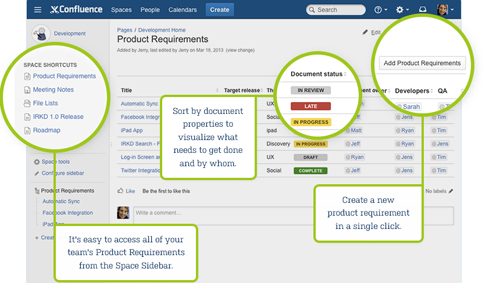 JIRA Agile adds agile project management to the power of JIRA and enables the foundation to support your Agile processes. Using cards on a team or project board, Scrum teams can plan their sprints and Kanban teams can manage the flow of their work.

JIRA Service Desk delivers an intuitive interface, a revolutionary new take on SLAs, customizable team queues, real-time reporting, and more. Improve the productivity of your service desk teams and the happiness of your users!
KEY BENEFITS
Write Requirements
Connect to JIRA Projects
Collaborate on Documentation