Bring us onsite to train your teams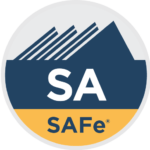 SAFe® Advanced Scrum Master (SASM)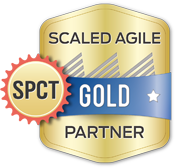 The next step in the Scrum Master's learning path™
This two-day course prepares current Scrum Masters for their leadership role in facilitating Agile team, program, and enterprise success in a SAFe® implementation. The course covers facilitation of cross-team interactions in support of the program execution and relentless improvement. It enhances the Scrum paradigm with an introduction to scalable engineering and DevOps practices; the application of Kanban to facilitate the flow of value; and supporting interactions with architects, product management, and other critical stakeholders in the larger program and enterprise contexts. The course offers actionable tools for building high-performing teams and explores practical ways of addressing Agile and Scrum anti-patterns in the enterprise.
Attending the class prepares you to take the exam and become a certified SAFe® Advanced Scrum Master (SASM).
SAFe® Advanced Scrum Master Course Objectives:
By the end of this course, attendees will be able to:
Apply SAFe® principles to facilitation, enablement, and coaching in the multi-team environment
Build a high-performing team and foster relentless improvement at the team and program levels
Address Agile and Scrum anti-patterns
Support the adoption of engineering practices, DevOps, and Agile architecture
Apply Kanban and flow to optimize the team's work
Facilitate program planning, execution, and delivery of end-to-end systems value
Support learning through participation in Communities of Practice and innovation cycles
Learning Objectives
SAFe® Certification:
SAFe® Advanced Scrum Master (SASM) certification
SAFe® Certification Kit
Attendees who pass the exam will receive:
A SAFe® Advanced Scrum Master certificate
A one-year certified membership as a SAFe® Advanced Scrum Master
A SAFe® Advanced Scrum Master branding kit with the SASM certification mark
Duration:
2 days, from 9:00am to 5:00pm daily; fully catered lunches!
Audience:
Attendees of the SAFe® SASM course are strongly suggested to have one of the following certificates: Certified ScrumMaster (CSM), Professional Scrum Master (PSM), and alternatively, SAFe Practitioners (SPs) who have attended the SAFe Scrum Master Orientation, including but not limited to:
Existing Scrum Masters
Team leaders, project managers, and others who have assumed the role of an Agile team facilitator in a SAFe® or enterprise Agile context
Engineering and development managers who will be responsible for Agile execution and for coaching teams and teams of teams
Agile coaches
Agile program managers and prospective Release Train Engineers
Course outline:
SAFe® framework, values, and Lean-Agile principles
Agile and Scrum anti-patterns
Program increment planning, execution, and Inspect and Adapt workshops
Quality engineering, Agile architecture, and DevOps practices
Kanban for facilitating team and program flow of work
Building high-performing teams
Interaction with the system team, deployment, UX, architects, product owners, product management, and business owners
Learning and Communities of Practice
Schedule:
This course is available as an on-site private training and currently has no in-class training schedule for individual sign-up. Click on "Request Course" below to receive a quote.