SAFe Program Consultant (SPC) Training & Certification Course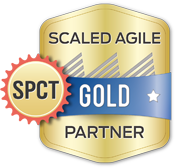 The first two days of this class is an intensive version of Leading SAFe. The goal is to prepare certified SAFe Program Consultants (SPCs) to teach the course and act as a certifying agent for SAFe Agilists (SAs). You will also gain the knowledge necessary to lead an enterprise agile transformation by leveraging the Scaled Agile Framework and its underlying principles of lean thinking and product development flow. In the second two days, you will gain the knowledge needed to identify, plan, and implement SAFe programs with Agile Release Trains. Further, you'll have the briefings, artifacts and templates you need to identify the value streams, prepare the organization, launch Agile programs, plan and execute the major events, and implement effective processes and measures for continuous program improvement.
ABOUT THE COURSE:
The goal of this course is prepare the student to:
Lead an enterprise agile transformation
Implement the Scaled Agile Framework® (SAFe)
Train managers and executives in Leading SAFe and act as a SAFe Agilist (SA) certifying agent
Train teams in SAFe ScrumXP for Teams and act as a SAFe Practioner (SP) certifying agent
ABOUT THE STUDENT:
Attendees typically include internal change agents, external consultants and managers and leaders responsible for implementing agile programs as part of an enterprise Lean-Agile change initiative
Duration:
The SAFe® Program Consultant 4.0 Course is a 4 day class from 9AM-5PM, a light breakfast is served at 8:30AM and Lunch is provided mid-day.
What is included:
4 Day SAFe® Program Consultant 4.0 In-person Course and workbook
Includes a light breakfast, lunch and afternoon snack provided on all days of training
Includes Exam Fee for 1 attempt towards the SAFe® Program Consultant 4.0 Certification
1 Year certified Membership as a SAFe® Program Consultant
Prerequisites:
To earn your SAFe® Program Consultant certificate you are required to complete the 4 day SAFe® Program Consultant Course from an Authorized Scaled Agile Trainer and pass the online SAFe® Program Consultant exam. Although 5+ years of management experience is highly recommended, there are no required prerequisites to participate in the SAFe® Program Consultant Course.
Exam Details:
The SAFe® Program Consultant exam is administered online and sent via email after attendance is recorded and reported by your Scaled Agile Instructor. The link is sent 24-48 hours after class concludes. You have 10 day access to the exam and 2 hours to complete the exam once started. The exam is in multiple choice format.
Cancellation Policy:
All cancellations or date changes must be made at least 10 days prior to the course start date or will be subject to a $150 late-move/cancellation fee. No-shows or same day move/cancellations are non-refundable.
PDU/SEU:
To claim credits Scaled Agile must be contacted directly
http://www.scaledagile.com/contact/
or
[email protected]
SAFe Program Consultant (SPC)
Date: June 27, 2017 -
June 30, 2017
SAFe Program Consultant (SPC)
Date: July 25, 2017 -
July 28, 2017
SAFe Program Consultant (SPC)
Date: September 26, 2017 -
September 29, 2017
SAFe Program Consultant (SPC)
Date: October 10, 2017 -
October 13, 2017
SAFe Program Consultant (SPC)
Date: December 5, 2017 -
December 8, 2017