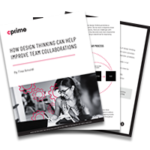 Design thinking is about more than design; it is about the work process involved in the design. Design thinking teaches people to address problems innovatively and creatively. There are several methodologies around design thinking and various ways to apply it, but the underlying concept remains the same. A key thing to note is that design thinking is an iterative process – it is not a linear activity that takes a team directly from A to Z.
This whitepaper explains how design thinking will strengthen your teams and improve your culture, ultimately improving the company's bottom line. Over time, the use of design thinking will create an environment where creative ideas are welcome, people feel empowered to create, and there is a bias for action.
We will explore:
How design thinking is beneficial for improving team dynamics
How companies benefit
Potential challenges when implementing a design thinking approach
And how to get started on your implementation
To learn more about design thinking, check out our Design Thinking Boot Camp!
Some of the images used were designed by freepik.com