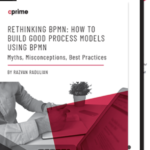 Business Process Model and Notation (BPMN) has become the 'de facto' standard for modeling business processes.
BPMN's main goal is to build process models that can bridge the communication gap between business and technical/IT stakeholders.
Unfortunately, most BPMN process models in the real world are often BAD models.
So, what makes a Process Model "good"?
This white paper is packed with examples and details on what's truly needed to create a good process model.
In this whitepaper, we will explore:
An understanding on how BPMN should be used
The difference between good and bad BPMN
How to build good process models
Some of the images used were designed by freepik.com