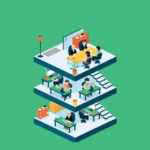 Free Scrum White Paper. Download Today!
"Scrum in the Enterprise" is a white paper written by Kevin Thompson, one of Cprime's Agile Implementation Specialists. The paper talks about the common issues that companies face while making the transition to Agile Development, while explaining how to prepare for and overcome them. Kevin writes about topics from how to use Scrum in a hybrid environment to how to collaborate in Scrum teams. This white paper will interest and benefit anyone who is involved with Agile projects or just interested in the methodology.
Contents include:
Hybrid projects: Scrum and Waterfall, Together
Budgeting
Tracking Projects
Management Distributed Scrum Projects
Tools for Managing Agile Projects
Documentation Issues
Requirements Specifications
Tracking
Execution
Download it right now!
Some of the images used were designed by freepik.com