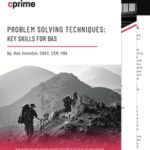 Requirements elicitation happens at the beginning of a project, making it a critical phase that will make or break the project. This is typically the only part of the project where business users spend considerable time with the business analysts. So it's vital that the business analyst is able to make the most of the business users' time and knowledge. Yet poor requirements definition and management is the most common factor in project failure.
Ask yourself these questions:
1. Do you have conflicting requirements?
2. Are your stakeholders indecisive, unavailable, and uncooperative?
3. Are your priorities constantly changing?
If you answered yes to any of these, there are some key steps you should be taking now in order to avoid project failure. And when it comes to problem-solving, speed and efficiency are imperative.
The better you can facilitate solving problems, the more effective you will be as a BA. This white paper is packed with a variety of techniques that Business Analysts can use for daily problem-solving. Download it today!
Some of the images used were designed by freepik.com