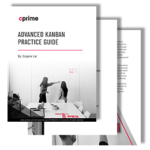 Originally conceived by Toyota Motors in the 1950s, the Kanban method is a powerful set of tools that was designed to streamline and optimize work within the automobile manufacturing business. Because of its flexibility, over the past few decades, Kanban has been successfully applied to a wide range of domains such as technology and service design and implementation. It's primary strength is its versatility, which is also a source of its risk – many business organizations struggle to effectively apply its principles and practices because of the wide range of possibilities.
This guide is specifically developed to enhance an organization's ability to design and evolve a Kanban approach that will empower teams to achieve their business objectives. In this advanced practitioner's guide, the relationship between Value Stream Mapping approach within the context of Kanban system design will be discussed. In addition, techniques for constructing a Kanban flow system using elements of operational and development value streams will also be examined.
Furthermore, various design options for Kanban boards will be discussed using various usage scenarios and team attributes. Due to the high level of variability within organizational constructs, teams must assess the benefits and risks associated with each specific type of Kanban system to maximize long-term viability as well as the probability of success. Download this whitepaper to learn more!
Continue your learning journey with our Kanban Workshop. This training provides guidance on implementation and bootstrapping a Kanban system in your own organization. Register today!
Some of the images used were designed by freepik.com