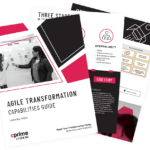 Your Partners in Pursuit of Enterprise Agility
"Going Agile" is easier said than done. And, achieving scaled enterprise agility can be a long, complex, and overwhelming process. Expert guidance, the right tools, and a suite of optimized services can make all the difference.
You'll Need Help. Work With the Best.
Cprime is a global leader in Agile and technology consulting, training, and support; the only global strategic consulting firm that blends Agile, product, and technology solutions to achieve enterprise agility, regardless of industry. Cprime is the go-to partner for organizations looking to get ahead of change and turn ideas into action faster.
Download the Agile Solutions Guide to begin your transformation journey, today!
Some of the images used were designed by freepik.com