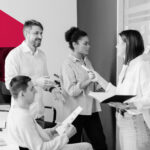 You're looking at this guide because you're feeling the pain of knowing your business isn't running as well as it could and should. In today's market, business agility is no longer a "nice-to-have," it's imperative.
But, scaling your Agile practice is easier said than done and can be a long, complex, and overwhelming process. Expert guidance, the right tools, and a suite of optimized services can make all the difference.
Scaling Agility beyond the team level requires a different set of skills, new roles, and updated processes. Working with a proven framework has helped thousands of companies organize and implement the changes they need, without unnecessarily disrupting business or wasting time and energy heading in the wrong direction. Cprime experts can help with training, tooling, and coaching to get you up and running with SAFe®.
Check out this guide to see what we can do as a a Scaled Agile Gold SPCT Partner and a Scaled Agile Platform Partner to ease your pain and guide you along your journey to scaled Agility with SAFe®.
Some of the images used were designed by freepik.com