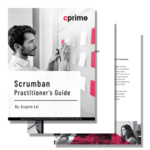 Scrum has become the most popular Agile method, currently utilized by millions of practitioners around the world. Given its evolution over this period of time, Scrum has become a staple for many of the most prominent and successful organizations in the world. For practitioners who have mastered Scrum, there remains a plethora of possibilities to enhance the application of Scrum principles and practices in pursuit of pushing the boundaries of value, efficiency and quality.
Another key development framework that has been compared to Scrum and often integrated closely with Scrum teams is the Kanban approach. Kanban has also risen significant in the world of Agile development over the past two decades. Many Agile development teams that have achieved meaningful successes with Scrum principles and techniques have realized that they can adopt key elements of Kanban with minor customizations to improve their existing workflow.


This paper is intended to provide a brief overview of the Scrumban approach, which amalgamates the power of both Scrum and Kanban in an effort to highlight key benefits and techniques that will empower an experienced Scrum team to elevate their performance. In addition, this paper will explore various usage scenarios, customization approaches and anti-patterns that practitioners will often encounter within a Scrumban implementation. Download today!
Some of the images used were designed by freepik.com