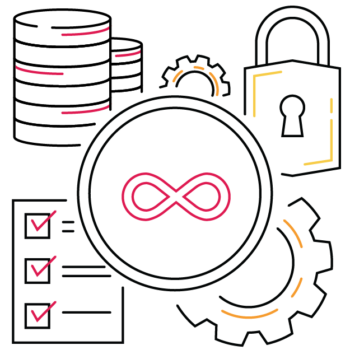 Infuse a security mindset into the execution of a nimble and automated DevOps practice
Just as automated functional testing is critical to ensuring that software operates as intended, security testing should be automated to guarantee that all known security concerns are being checked against as part of the software delivery process.
Simplify security audits and gain peace of mind by validating that safe practices are being followed with every release
Proactively check for the most common vulnerabilities (open ports, user access, unpatched libraries, etc.) when your software is being built, not when it's already deployed in Production
Minimize the pain of audits by being able to share a version controlled list • Ditch the "us" versus "them" mentality between teams by making security part of the build process and not an after-the-fact enforcement
Assessment
Cprime will look at your current operations to evaluate the tools and procedures you currently utilize to better understand how well they work for you. Coupled with interviews to get a sense of where your organization wants to go, we craft a package of recommendations based on best practices and our experience of what is possible and how to get there.
Proof of Concept
With an assessment in place, Cprime will work with a handful of teams and applications in your organization to build out a basic DevOps process and toolset that fits your needs. This POC will generally have a few iterations until we arrive at a product that works well and could be used as a model that would be applied to other teams and applications.
Transformation and Training
Working with the results of the POC, Cprime will build (or help support) the rollout of that template across your organization. This will be done in conjunction with training for your team to help instill the practices and understanding of the tools that your organization is specifically adopting.
AWS Cloud Adoption Framework (Security Perspective)
The Amazon Web Services (AWS) Cloud Adoption Framework1 (CAF) provides guidance for coordinating the different parts of organizations migrating to cloud computing. The CAF guidance is broken into a number of areas of focus relevant to implementing cloud-based IT systems....
Read it
AWS Security Best Practices
This whitepaper is intended for existing and potential customers who are designing the security infrastructure and configuration for applications running...
View resource
DevOps Enterprise eBook
DevOps enables companies to deliver IT products and services - internal or external - with higher quality and speed. It's...
View resource
DevOps Metrics to Monitor Software Delivery
DevOps solutions for business agility and cloud computing are tying together increasingly complex tools, environments and solutions that can be...
View resource