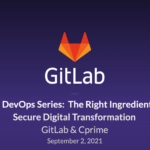 During this one hour presentation and discussion, experts from GitLab and Cprime will examine some of the challenges businesses are facing as they navigate through their digital transformation and embrace the process for creating more secure code.
At this event, you will:
Discover the vulnerability lifecycle as a model for how to think about not just remediating vulnerabilities but detecting potential weaknesses and eliminating them as early as possible in the software development process.
Learn how GitLab's broad feature set complements Cprime's services to broadly cover the vulnerability life cycle.
Walk away with a better understanding of various tools and techniques to prevent or uncover possible security weaknesses at every step of the life cycle.
Watch the Webinar on Demand
Some of the images used were designed by freepik.com