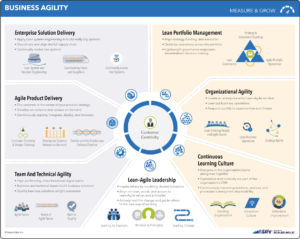 If you are trying to build a complex product or solution, there's a high probability that one Scrum team is not going to be enough to design and build this on time. This is where scaling comes into the picture. While there are many ways to scale Agile techniques, Scaled Agile Framework (SAFe®) has risen to the top of the list for many organizations.
Without getting into a debate over which scaling model is best, let's assume that you are doing your research and trying to decide if SAFe will work for you. We will also explore a few things that you might want to consider.
Why are companies choosing to adopt SAFe instead of other frameworks such as LeSS, Disciplined Agile, or Scrum at Scale? The following are a few benefits that I have observed through my experience and readings:
Benefit #1 – SAFe Is "Neatly Packaged"
SAFe consists of a very well-defined framework that includes roles, processes, and practices that many larger organizations can relate to. Some may see this as a weakness instead of a strength due to its perceived level of prescription that may make it feel "anti-Agile".
Benefit #2 – SAFe Has "Something for Everyone"
Based on how it is structured and marketed, SAFe provides role-based training and certification programs that are designed for specific functions such as Scrum Master, Product Manager, and even Architect.
Benefit #3 – SAFe Is Customizable
SAFe provides 4 levels to choose from, each with increasing level of sophistication.
According to SAFe guidelines, the center of the model operates on the concept of an Agile Release Train (ART), which can be considered a program or team of teams. This ART is supposed to contain anywhere between 50 to 125 team members. If we do some basic math, we will find the following:
If we have an average of 6 team members per Agile team, we would have somewhere between 9 and 20 Agile teams.
What happens if your project has less than 50 people? Is SAFe not right for you? That depends on how many teams you have.
If you have less than 3 teams (i.e. 2 teams) of average sized Agile/Scrum teams, it will be difficult to reap the benefits of a scaling model such as SAFe due to the rigor asked for. You may be able to get value out of some of the practices such as Scrum-of-Scrums and PI Planning without implementing the other practices such as IP Iteration or Program Retrospective.
If you are within 10% on either side of the boundary (50 to 125), which would be 45 to 139, it is my opinion that you CAN still adopt SAFe, but you increase your risk of inefficiencies. By "inefficiencies", I'm referring to a potential breakdown in communication or spending too much time within certain Agile events such as PI Planning, Program Retrospectives, ART Sync, etc. If you can focus on managing those events effectively, you can still succeed with SAFe.
What if you have a gigantic program with hundreds of people, which requires you to use multiple ARTs and potentially multiple Solution Trains? The key to success here is to avoid cutting corners with the higher-level roles such as Solution Architect, Solution Owner and Solution Train Engineer. These roles are created for a reason – to ensure proper collaboration and coordination. So, if you want to do SAFe properly, invest in the right resources and do it right, or you will likely miss out on the benefits that the framework is designed to give you in return.
Dealing With Project Team Turnover
Read Now