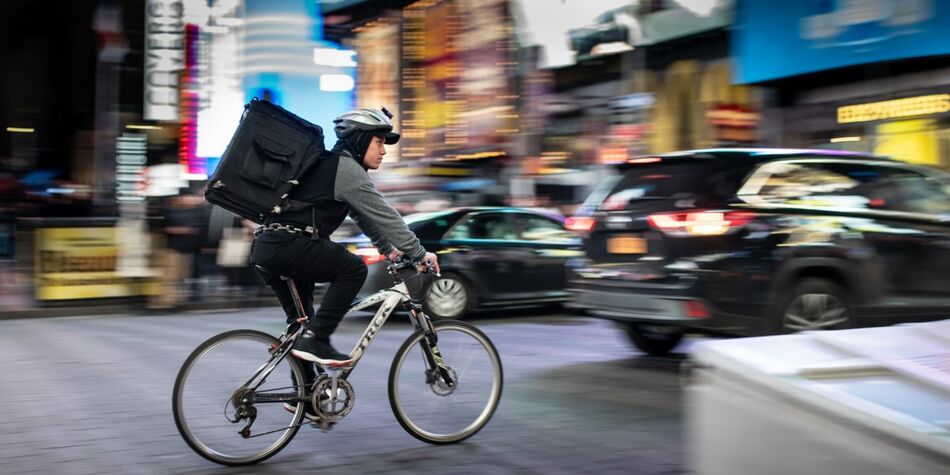 In this article, we are going to tell you how your restaurant's on-demand delivery software can benefit from fleet management automation utilizing more advanced technologies while reducing the investment needed.
Food delivery services are a perfect example of the on-demand economy. The market for on-demand food delivery is going to reach $38 billion in 2020, according to projections. What's more, a simple idea like food delivery allows restaurateurs to reach a wider target audience, increase sales, generate repeat orders, and get word-of-mouth referrals. It is also a great alternative to in-restaurant dining in a post-quarantine period when a lot of customers prefer not to visit crowded indoor places.
ON-DEMAND DELIVERY SOFTWARE CHALLENGES
Fleet delivery services are very popular among the most solvent part of the planet's population. According to studies, 57% of millennials say that they order food to watch movies at home, and 59% of all orders made by millennials are deliveries or take-aways. However, there are several challenges for cafe and restaurant owners who want to make their delivery process more profitable and customer-centric. Below are the main ones.
CUSTOMER SATISFACTION ISSUES
Customer satisfaction with both the delivery process and the quality of the food is one of the key factors when deciding on whether to order from the restaurant again. It is possible to optimize both sides of the process though with delivery management software. By using software solutions both in the kitchen and in the process of managing completed orders for delivery, it is possible to achieve an extremely positive user experience.
CHOOSING THE BEST LOCATIONS FOR DELIVERY
The feasibility of delivery to a particular location is another issue that a restaurant must solve before introducing a fleet delivery service. For example, most of the restaurants operating in cities do not deliver to the suburbs due to the remoteness and potentially small number of orders. However, urban areas can also be impractical for delivery. In this case, it is necessary to carefully analyze the demand before adding a specific area to the list of locations covered by the service.
Webinar – Fleet management automation for delivery companies
DELAYS IN PREPARATION AND DELIVERY
This point brings us back to the first one on the list: customer satisfaction. About 33% of Americans who order food delivery said they were willing to pay a little more for expedited delivery as time is becoming a greater priority. That is why it makes sense to use free on-demand delivery software and plan routes more wisely, taking into account demand, traffic, and the kitchen's ability to handle orders.
HUGE COMPETITION BECAUSE OF LEADING FOOD DELIVERY AGGREGATORS
Not all restaurants and cafes, especially those belonging to small businesses, are ready to invest in their own delivery tracking application and a fleet management system. In some cases, it's convenient to take advantage of food marketplaces like UberEats, Foodpanda, and GrubHub to reach a target audience and compete with other restaurants on equal footing.
However, even these convenient solutions have two drawbacks.
You rely completely on the work of the third-party app. If the service stops working, you will not be able to receive orders online.
You cannot influence the functionality you use in any way. Only the developer of the app decides whether to add new on-demand delivery software features that would be beneficial to your business or if it is better to leave it as is.
From this perspective, a food delivery fleet management solution tailored to the specific needs of your restaurant and your customers might make more sense. In addition, the innovative features that we will discuss below have great potential to optimize your business and make your restaurant competitive.
On-Demand Delivery Software key features
FLEET MANAGEMENT FEATURES THAT INCREASE DELIVERY EFFICIENCY
Below are three key features of the best fleet management software that can help you optimize your delivery process based on real-time data.
DEMAND PREDICTION
As a rule, the demand for food delivery can vary. For example, some restaurants may receive more orders on weekends and holidays, while cafes may be more in demand for office lunch deliveries during the week.
A machine learning system implemented as part of on-demand delivery software can help determine peak load times, predict demand based on existing data, plus warn about possible fluctuations like when a new competitor is entering the market.
DEMAND MANAGEMENT
Having data on the projected demand makes it possible to manage the flow of orders in a more reasonable way by planning chef changes in the kitchen, and purchasing the right amount of food in order to avoid a shortage of ingredients for meals while avoiding waste if too much is purchased. Also, top delivery fleet management software makes it possible to optimize the work of drivers and couriers, taking into account demand and fluctuations.
ROUTE PLANNING
With all this data in front of you, the only thing left is to plan the driver's route in an efficient way. When it comes to fleet delivery, the problem might sound like this.
It is necessary to build a route for each courier so that the food is delivered as quickly as possible within the agreed time, while the courier covers the maximum number of points while moving along the route.
We have already talked about route planning in logistics, but when it comes to food delivery, it is also necessary to take into account that food must remain fresh and at the right temperature at the time of delivery. It is necessary to plan the route competently to accomplish this. In this case, you should consider the GPS vehicle tracking system as well. At this time, the analytical and predictive capabilities of artificial intelligence and machine learning are the best technologies you can use for this purpose.
For example, some of these features have already been implemented in the Momento Food app created by Cprime's team. Using this on-demand delivery software for small businesses, you do not need to create your own application or hire couriers, since a well-thought-out and optimized funnel for lead generation and repeated sales are already included.
CONCLUSION
Do you still doubt the necessity of on-demand delivery software? Unfortunately, financial and material costs as a result of a poorly thought-out fleet delivery process can actually exceed the cost of using a software product. Contact us if your restaurant business needs help with figuring out the best option, and we will find the best solution as soon as possible!