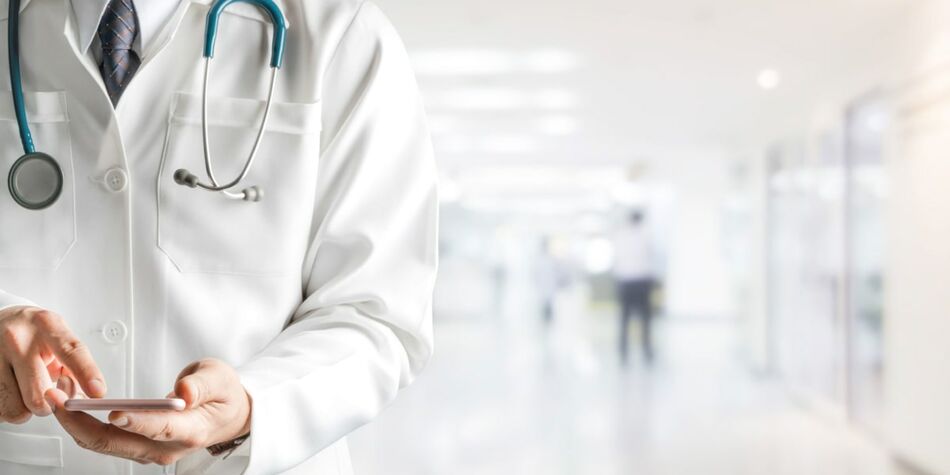 The main task for every hospital manager is improving patient satisfaction scores, and for this purpose, it is necessary to look for more and more new solutions. One of the answers is building a hospital mobile app that will care for your patients and increase their loyalty. There are still some challenges for a hospital app development, but we would recommend you to read about its benefits too.
There were a lot of attempts to integrate modern technologies into the healthcare system. And today when these technologies are at their peak for us it became obvious that the traditional medicine industry has a lot of remnants of the past – obsolete infrastructures, bureaucracy, archaic approach, and so on. The only way to change the situation is to find a fundamentally new approach to the work that will allow us to keep up with the times. Mobility is the thing the medicine industry needs now.
Functionality possibilities, that mobile devices are receiving now, change the fundamental view of health monitoring, diagnosis, treatment, etc. Many factors affect changes in the healthcare industry, and most of them depend on the growth of the number of smartphones and tablets.
As for the hospital mobile apps and medical software development, it is the fastest-growing segment in terms of attracting investments. Hospitals and clinics are constantly striving to rethink the models and processes of care to improve their services and to ensure patients' safety. Hence, we need to focus on the issue of medical software usage and hospital mobile app development.
What Are the Benefits of a Hospital Mobile App?
1. Increasing the availability of information
Every hospital operates a huge amount of health records and other personal patient data. Hospital mobile apps will help save time for the doctor and patient waste for filling in data, searching for analyzes, and paying bills. All that data can be stored inside this app and be available for both parties at any time.
2. Transforming the way patient care is delivered
With this type of mobile application, hospitals can change the whole treatment process from the treatment of consequences to disease prevention. Mobile sensors and other wearable devices are able to monitor patient health during the day and hand over that data to the attending doctor. It will help manage many chronic diseases to predict their occurrence based on the data obtained.
3. Improving patient interaction with their health
Patient involvement in the treatment process is just as important as the treatment itself. Lots of useful features that will interact with different devices and track health metrics can be added to hospital mobile apps for patients. From that, we see a logical conclusion that patient involvement will raise and influence his treatment that is a good signal for physicians.
4. Increasing patient loyalty
The difference between an adaptive website and a hospital app is in personalization. As a hospital app owner, you can add features that will engage with your patients and involve them in the interaction. And if your app will differ from competitors, contain a lot of useful information, be easy to use, and provide patients with all necessary features for hospital apps you will see its influence on your brand.
Hospital Mobile App Development Challenges
Hospital mobile app development companies are facing not an easy task – they need to provide software solutions for continuous health monitoring, disease warnings at early stages, as well as for support in diagnosis, monitoring, treatment, and care, including recovering therapy. Also, it's really important to implement continuous health monitoring, otherwise, the user won't be able to get correct data about his health from the app. How can this process be provided?
Here the choice is made in favor of the mobile Internet as it becomes faster, more stable, and its parameters are now approaching the parameters of the fixed connection. At the same time, many people have smartphones with permanent 24/7-access to the Internet, regardless of location.
Under such conditions, there is a possibility of constant transmission of health data to a server for processing or alerting the attending physician. In emergency cases, the app can automatically call an ambulance.
One more issue of web technologies in hospital app development is that apps are increasingly moving to the "cloud" – thanks to this, the patient can successfully synchronize multiple downloads, combine them with medical devices. By collecting data from different applications in one place (application medical card), it is possible to conduct a comprehensive survey. Google Health – Internet service for conducting personal electronic medical records and it is a well-known solution for specific purposes in medicine.
Hospital Mobile App Features
A key feature of hospital apps for patients is data. The amount of healthcare data users can get is increasing in the same proportion as the number of applications on the market. All this becomes possible thanks to wearable, portable and easy-to-use devices that use smart sensors that can capture and transmit various types of biometric data. Smartphones that are connected to these devices, help users to stay in a good health and shape.
Such devices are very popular, as they quench our desire to receive more data, and allow us to carry "doc in the pocket". Concerning the diagnosis and tracking tools, there are many options too. For example, AliveCor, which allows measuring a heart rate with the smartphone, or Vital Signs Camera from Philips, which measures the heart rate and breathing, using the iPad camera or Skin Scan, which with the help of iPhone assesses the risk of skin cancer. All these are just a few features app developers try to implement in medicine IT products, but now let us generalize them into one list.
Hospital app needs to offer their patients the next features:
Medical reference books on drugs and diseases
Special functional fitness, yoga training program
Medical card maintenance in a certain clinic
Reminders for the time when it's necessary to take medicine
Calculation of the medication dosage (e.g., insulin)
Online chat with the doctor
A set of sight tests
Interactive search
Medicines overview videos
Reading of a barcode using the smartphone camera to get the information about the vaccine
Maintaining a health diary
Hospital mobile apps need to take over the functions of instant notification about the status of the patient health, monitoring of improvements or aggravations of health, continuous monitoring of the human condition and sending data to medical personnel, as well as simplification of cards of patients, doctor's appointments info and monitoring of medicines. The application can also control disease procession and doctor's orders.
For example, such data can be instantly transferred to another clinic to help in emergencies when it needs to gather the council of physicians to solve the problem. In this situation, the data will be transmitted instantly, which, in turn, will contribute to the rapid decision-making on further treatment. Hospital mobile apps for patients, in addition to the drug regime monitoring, sick and health parameters control, can transfer user's data to the physician, who will be able to amend and supplement the parameters for a quick recovery, directly through the mobile application.
What Are the Main Problems You Can Face When Building a Hospital App for Patients?
What main problem do hospital app developers currently face? It is the accuracy of monitoring. The main problem that limits the feasibility and accuracy of the data is that results obtained by a mobile application are based on the particular spatial or mathematical values which were obtained at a specific moment.
Therefore, these data can not be considered the most accurate ones. That is the reason why we still can't increase the use of mobile health applications in medicine. Smartphone's design does not provide special sensors that can give us reliable data for an accurate prediction.
If we want to develop a mobile app for hospitals we need to provide support function of external devices with mobile sensors (specialized and certified for medical measurements), their synchronization, and data transmission. These sensors need to be in direct contact with the user. It can be wearables or special band-aids.
Hence, according to a certain amount of information obtained by the medical device, the hospital mobile app will provide accurate calculations and recommendations, as well as based on these data, a doctor will be able to give his advisory opinion.
Summary
The whole reason why ​​health applications are going to work is because of smartphones. Users always have them at hand. That's why it allows apps to measure different health indicators(eg, constant monitoring of blood sugar for diabetics), to visualize important information (for example, show the fluctuations in blood sugar levels), to transmit data to a doctor in real-time (for example, at a critical sugar rate). Developers are constantly working on the issues of data accuracy, trying to improve calculation algorithms so it can help to free apps from the usage of external devices.
As for the hospital apps market, it hasn't been much developed yet, especially in the case of apps that deal with the diagnosis, help in patients' treatment and healthcare. At the moment, we can predict that the development of applications that monitor, collect, structure, and visualize health data will get the attention of different business companies. This, in turn, means a great increase in investments for the medicine (or healthcare) industry.
So we can see this industry is a promising area for mobile apps startups and we need to start to build hospital apps now. For this purpose hire experts, who are dealing with successful IT-solutions for a long period. Have any questions for which you didn't find the answer or need more information?