JIRA enables teams to plan and track work, support customers, and ultimately build great products. Capture and organize issues, assign work, and follow team activity. With JIRA, teams improve visibility, communication and efficiency. Track issues, monitor activity streams, and share information with powerful dashboards, wallboards, and more. With JIRA, you'll always know what's going on.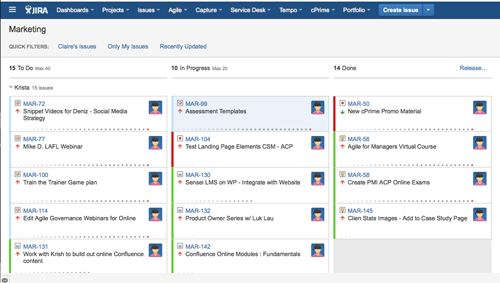 JIRA Software is designed specifically for software teams, delivering best-in-class agile tooling, with default best practices, deep developer tool integrations, and a focused project experience for your entire team.
JIRA Service Desk 3 delivers a purpose built solution for IT teams with the right tools to help them be productive and responsive to the business.
JIRA Core provides a purpose built experience for business teams and extends JIRA's fundamental workflow capabilities with specific templates for business teams.
Key Benefits
Bug Tracking
Custom Workflows
Project Tracking
Reporting
Plugins and Extensions
Scale JIRA to the Enterprise with SAFe in JIRA
cPrime's JIRA SAFe product blends Atlassian's ALM Platform with the Scaled Agile Framework to develop a tool and process configuration for clients. The JIRA SAFe solution provides a critical component to technology transformation, providing one single ALM tool for all teams, enabling easier training effort and comprehensive rollup reporting giving them the ability to understand the total cost of ownership. It brings end-to-end visibility of epics, features and stories and provides a single source of Agile data, reducing the labor need for reconciling, standardizing and normalizing.