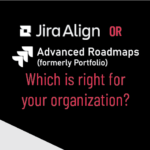 With the release of Jira Align, many clients have been asking us which of these platforms for scaling Jira is right for their organization. There are a ton of nuances that need to be considered with selecting a platform of this magnitude, but we have put together this decision tree to help understand the different factors that they should be assessing.
We recommend
talking to an expert
for more information, but at a glance, we can help to showcase some key difference between Jira Align and Advanced Roadmaps (formerly Portfolio for Jira).
Download the Tool/Template