Jira Align
Muscle up for your journey to Enterprise Agility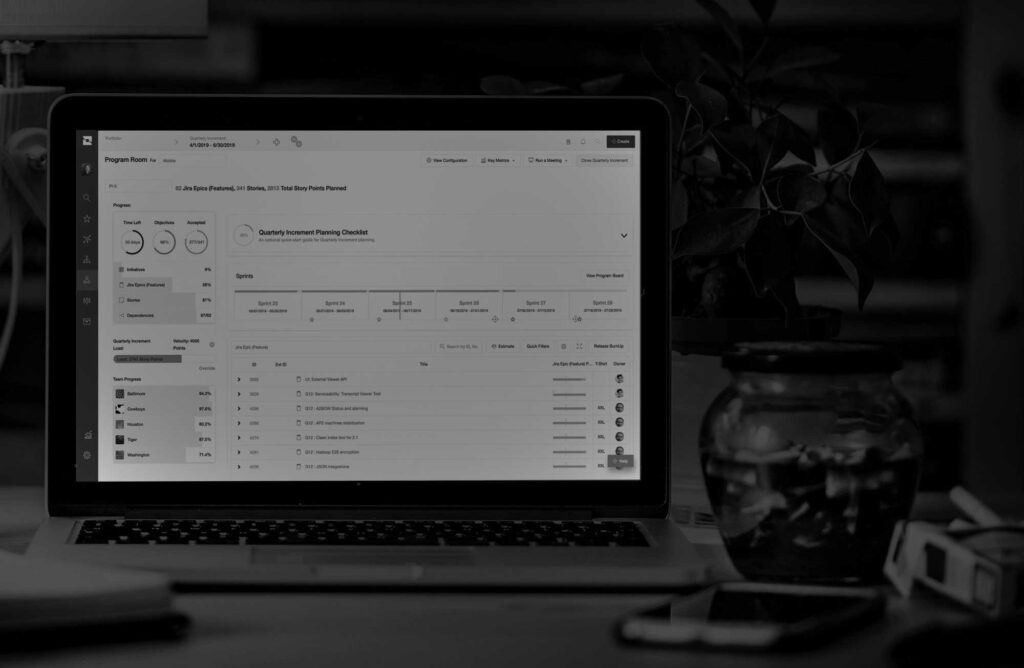 We help to increase visibility and alignment at any level of the Agile maturity and adoption


Jira Align is a transformative tool, but alone it is not enough to gear up your team on the journey to true Enterprise Agility. Your travel should be neither long nor hard – we'll meet you where you are and build a unique solution for you to get where you want to be faster while also enjoying the ride.
Find your starting point on the path to Enterprise Agility with our whitepaper
Our accreditations
Are you willing to inspect, adapt, and iterate on everything?
Inspection and adaptation across teams and functions drive in-depth collaboration and increase visibility. Incremental scaling and integration help prioritize continuous improvement efforts.
Are you committed to doing Incremental planning across a team of teams?
Incremental planning across all organization ensure predictability and speed of product delivery. Iterative roll-out helps produce value fast with minimal disruption.
Do you have a Center of Excellence or governance team in place?
Decision-makers must be incorporated into the Jira Align initiative to remove blockers. A regular cadence with these stakeholders ensures enterprise-level buy-in and quick implementation.
Organize delivery around value, manage OKRs and dependencies, track progress towards shared goals – all in one tool across teams of teams.
Built around the principles of Agile at Scale, Jira Align was designed from the ground up to provide a single source of truth for all levels of the organization across business units. It provides the structure and visibility needed to effectively plan, deliver, measure, and learn across the entire organization. It ties together day-to-day story-level tasks and overarching business strategies and vision, offering unparalleled visibility and actionable insights.
Jira Align Jumpstart
Includes the implementation of the core set of use cases in Jira Align covering the most critical needs at this phase of the customer decision-making stage prior to an enterprise roll-out.
Jumpstart is focused on program-level visibility and planning to enable your team to do a Proof of Concept and then scale it across all your teams.
Jira Align Prepare and Roadmap
Creates an accurate understanding of your business and technology realities to make solid recommendations for a path forward focusing on the Strategy and Portfolio levels.
For Agile organizations seeking further alignment, a Cprime enterprise coach and expert in Jira Align will facilitate shaping a set of Objectives, Key Results, and options to drive the organization forward leveraging Jira Align as they grow.
Jira Align MVP Implementation
Covers the initial phase of enterprise rollout: configure, implement, and enable users on Jira Align and create standardized rollout plan, pilot initial portfolios alongside scaled agility process transformation, and enable Jira Align adoption through the organization post MVP implementation.
Atlassian Migration
We offer clean and efficient migrations and upgrades with minimum disruption or downtime with our comprehensive suite of proprietary tools and scripts. Upgrades can be scoped and included as part of custom migration solutions or as separate services.
Enterprise Integration
Covers designing a consistent approach to digital orchestration and automation enabling your enterprise to build a powerful mechanism to generate high-powered decisions and create competitive advantages. By connecting Jira Align through iPaaS and custom API-to-API integrations with relevant apps used by your teams, your organization can have cross-functional end-to-end analytics and unified data flow in Jira Align.
Cprime Global Capability
We have seasoned pros who can create a unique adoption plan to make your experience with scaling Agile and Jira Align both successful and smooth.