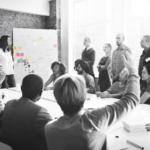 Like a long and winding mountain road, the journey to enterprise agility is neither fast nor straightforward. And if you try to take a shortcut, you'll likely find yourself lost. On the other hand, you're sure to reach your destination with a map in hand and a skilled navigator by your side.
In this white paper, we want to share that map: a clear description of what you should expect to see across all Five Phases of Enterprise Agility:
The Agile Team
The Team of Agile Teams
The Scaling Agile Organization
The Agile Enterprise
The Scaling Agile Enterprise
And, like a trusted navigator, we share valuable advice about negotiating the turns, avoiding roadblocks, and enjoying the ride. Plus, we'll talk about the optimal vehicle for each phase of your journey — enterprise product management software including Jira and Jira Align.
If you're ready to head out, let's go. Download this whitepaper today.
Some of the images used were designed by freepik.com