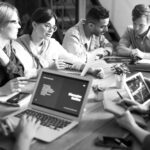 One of the most critical aspects of enterprise agility is alignment. If an organization is not strategically aligned at all levels, it can't achieve true agility. And, the first step toward alignment is establishing strategic goals for the company that can be effectively mapped down through all levels, resulting in the individual tasks employees carry out daily.
The creation and communication of Objectives and Key Results (OKRs) form the foundation of ongoing strategic alignment. It is the single most critical piece of the puzzle because effective OKRs can cut through politics, smooth change management, reduce friction between teams, and dramatically improve engagement across the enterprise.
Download this whitepaper to learn more about OKRs and how they help businesses seeking practical tools for goal setting and strategic alignment.
Some of the images used were designed by freepik.com