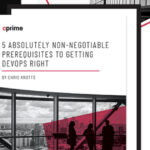 DevOps and "DevOps-like" practices are going mainstream, and few high-performing IT teams have not implemented at least some processes and tools associated with DevOps. There is a growing awareness in IT of the many tools available for streamlining and automating IT work. Engineering and software delivery teams are getting faster in these organizations.
However, DevOps is not just about IT. DevOps is a way for IT to help solve business problems, and there are some fundamental prerequisites to getting DevOps right that rely as much on business stakeholders outside of IT as within it. Unfortunately, these are often not as well understood as the IT pieces are.
In this white paper, we break down five of the most important DevOps prerequisites. These critical concerns are some of the most practical and fundamental considerations any organization adopting or considering DevOps must address. Without them, investments in any technology or IT-specific pieces of a DevOps strategy will falter.
Some of the images used were designed by freepik.com