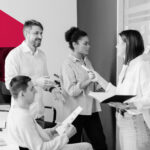 Organizational culture can be defined as a set of values, behaviors, and beliefs that contribute to the unique social and psychological environment of an organization. Agile frameworks can have a powerful and productive influence on organizational culture when aligned.
Can Company Culture and Agile Frameworks Align?
This paper offers guidance on how to choose the best-suited Agile framework based on existing culture, and how to maximize that alignment between your organizational culture and the Agile framework you choose to adopt.
Download this whitepaper to learn more.
Some of the images used were designed by freepik.com