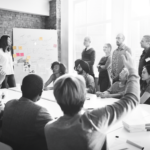 Business leadership is a subject that's been studied, explored, and reimagined endlessly over the years. It's likely that you've seen countless examples of both excellent and terrible leaders. Despite that, two facts remain for the business world today:
Many are still confused and overwhelmed as they work to develop their leadership skills.
The majority of current business leaders are working with outdated methods and understanding, which can have a detrimental effect on the people and companies they're trying to lead.
In this whitepaper, we help clear up some misconceptions, highlight common issues modern business leaders face—especially in fast-moving, agile environments—and offer solid, time-tested solutions. Download it today!
Some of the images used were designed by freepik.com