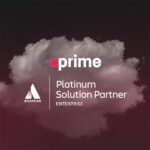 Leverage Accelerated Innovation, Enhanced Security, Lower Costs, Streamlined Operations, and Maximum Flexibility While Solving Business Challenges
Many companies are benefiting from the advantages of cloud. In fact, over 90% of clients start with Atlassian cloud products and current Atlassian server customers make the switch every day. Atlassian has also taken their cloud offerings to the next level by building a modern, intuitive, and unified experience across all their products to transform how your teams collaborate.
While the transition to Atlassian cloud may be a challenge, it'll be for your organization's long-term success. Plus, Cprime is here to help mitigate common concerns like cloud security and capabilities. Download this whitepaper to learn more about:
Why Atlassian cloud is right for your organization
Factors to consider to ensure a smooth and successful outcome
Benefits from a migration to Atlassian cloud
Also be sure to download the second whitepaper in this two-part Cloud Migration series.
Some of the images used were designed by freepik.com