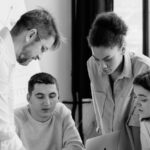 The speed and complexity of modern business are always growing and change is the only constant. To keep pace with ongoing acceleration, organizations undergo continual digital transformation. They adopt various software solutions to eliminate waste, create efficiencies, and streamline processes so they can keep pace with what their customers have come to expect, and many times, they work — to an extent.
Often, though, the very tools and processes that were expected to simplify and streamline the company's internal workflow become a source of complexity in themselves. As a result, one department or line of business can become a silo, separated from others and struggling to collaborate effectively. More often than not, it's the customer (the consumer of the service) who suffers in the long run, since the company is still trying to move fast, but those movements remain chaotic and unpredictable.
There is not one "silver bullet" solution to this modern business challenge. But, a relatively new concept — Enterprise Service Management (ESM) — has proven highly effective in smoothing out the internal roadblocks standard processes often create. Download this whitepaper today to learn more.
Some of the images used were designed by freepik.com