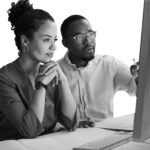 Atlassian's Jira Align is a powerful solution for enterprises that are scaling their Agile practice and want to get the most out of the organizational and strategic alignment this creates. Jira Align's power comes from the visibility it provides, tying all levels of the organization together with the common threads of overarching strategic objectives and the work that goes into pursuing and reaching them.
Of course, this visibility depends on everyone being able to access the data they need when they need it, and in the format that's most helpful to them. Jira Align accomplishes this admirably with a large array of built-in reports and dashboards that will satisfy the most common reporting needs.
Download this whitepaper today to learn more.
Some of the images used were designed by freepik.com